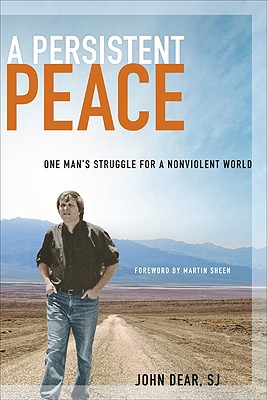 A Persistent Peace
One Man's Struggle for a Nonviolent World
Hardcover

* Individual store prices may vary.
Description
All of us say we want peace, but only a few are willing to prove it.John Dear, SJ, has been arrested more than seventy-five times. He has spent more than a year of his life in jail. He has been mocked by an armed and angry U.S. National Guard battalion standing outside the doors to his New Mexico parish. All this because he so fervently believes in peace.
A Persistent Peace, John Dear's autobiography, invites readers to follow the decades-long journey and spiritual growth of this nationally known peace activist, and to witness his bold, decisive, often unpopular actions before government officials, military higher-ups, and even representatives of the Church.
From his conversion to Christianity, to his calling to become a Jesuit, to the extreme dangers and delights of a life dedicated to truly living out the radical, forgiving love of Jesus, Dear's incredible story will touch the heart of anyone who believes in the power of peace and the possibility of a world where love conquers all.Praise for John Dear and A Persistent Peace "Once more, and in a plenary way, we are blessed by the eloquence and moral passion of John Dear. . . . More power to this intrepid disciple of Christ—The Peacemaker."
 —Daniel Berrigan, author of The Trial of the Catonsville Nine "John Dear understands that peacemaking is not a part-time job. . . . John has walked the talk for years, an inspiration to all of us to do more than we think we can."
 —Jim Wallis, author of The Great Awakening and president, Sojourners
"John Dear has been arrested in the cause of peace and human decency more times than anyone else I know. I am honored to consider him a friend."
 —Joan Baez, singer and peace activist
"John Dear is a great spiritual progressive leader whose wisdom, courage, and gentleness make him one of the most beloved teachers of nonviolence in America. . . . Reading this book will make you less lonely by knowing that you're sharing your time on earth with John Dear."
 —Rabbi Michael Lerner, editor of Tikkun magazine"Look, I know this guy. He's real; and he shows that it's possible for ordinary folks to really live Jesus' call to be peacemakers. . . . Prepare your own heart as you open this book."
 —Sr. Helen Prejean, CSJ, author of Dead Man Walking
"John Dear's life story is inspiring and heartwarming."
 —Howard Zinn, author of A People's History of the United States
Loyola Press, 9780829427202, 456pp.
Publication Date: August 1, 2008
About the Author
John Dear, SJ, is a Jesuit priest, peace activist, organizer, lecturer, and retreat leader. He is also the author/editor of twenty books on peace and nonviolence. John was recently nominated for the Nobel Peace Prize by Archbishop Desmond Tutu of South Africa. John lives in northern New Mexico. Visit his Web site at www.persistentpeace.com.
or
Not Currently Available for Direct Purchase