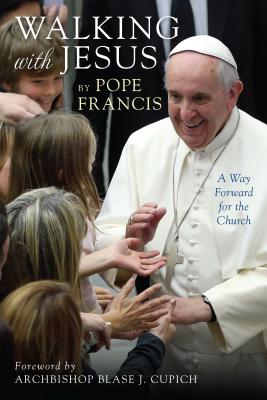 Walking with Jesus (Hardcover)
A Way Forward for the Church
Loyola Press, 9780829442489, 160pp.
Publication Date: April 5, 2015
* Individual store prices may vary.
Description
Two thousand years ago, Jesus said, "Follow me." What if the 21st-century Church actually heeded that call? What would the world look like if the Church were truly on the move? Simply put, very different. But these ponderings beg one more critical question: What exactly should the Church be moving toward?
In Walking with Jesus: A Way Forward for the Church, Pope Francis's own words lead us to the answer. Francis urges us to make Jesus central in our individual lives and in the collective life of the Church—to walk toward him, and ultimately to walk with him at all times and in all places.
Each chapter of this Vatican-authorized book helps us put one foot in front of the other as we move ever closer to God and to our neighbors through the sacraments, prayer, evangelization, the gifts of the Spirit, and service to others. Francis reminds us that while the Church is indeed made up of individual people, we must walk together as a community of believers in a transformative relationship with Jesus if the Church is to be an effective, faithful witness to the Gospel.
With a foreword by Archbishop of Chicago Blase J. Cupich, Pope Francis's first major appointment in the United States,Walking with Jesus offers the Church a much-needed way forward, past its inner and outer walls, as it fearlessly follows Christ toward the future.
About the Author
POPE FRANCIS was born Jorge Mario Bergoglio on 17 December 1936 in Buenos Aires, Argentina. As a young man, he worked briefly as a chemical technician and nightclub bouncer before entering the Jesuits. He was ordained a priest in 1969, and from 1973 to 1979, was Argentina's Provincial Superior of the Society of Jesus. He became the Archbishop of Buenos Aires in 1998, and was appointed a Cardinal in 2001. Following the resignation of Pope Benedict XVI on 28 February 2013, Bergoglio was named his successor on 13 March. He chose the name Francis in honor of Saint Francis of Assisi. He is the first Jesuit Pope, the first Pope from the Americas, the first Pope from the Southern Hemisphere, and the first non-European Pope in over 1200 years. Pope Francis has been noted for his humility, his concern for the poor, and his commitment to dialogue as a way to build bridges between people of all backgrounds, beliefs, and faiths.


Praise For Walking with Jesus: A Way Forward for the Church…
"Magnificent.  A beautiful invitation by a truly holy man to meet the one at the center of his life: Jesus Christ."
 - James Martin, SJ, author of Jesus: A Pilgrimage.

 
Walking with Jesus
offers a carefully selected collection of recent homilies, discourses and messages of our astonishing Pope Francis. The excellent translation captures the remarkable humanity, turns of phrase, metaphors and imagery of a pope who is second to none as communicator. Expert editing makes each selection a real treat, accessible and easy to read, while inviting you to reflection and prayer. What a wonderful addition to our knowledge of the fresh and inspiring message of a revolutionary pope from 'the ends of the earth!'" 
- Allan Figueroa Deck, SJ
Casassa Chair and Professor of Theology
Loyola Marymount University
"Growing up on the gritty streets of Chicago's West Side, I was taught to never walk alone. The same advice holds true for the spiritual journey and Pope Francis shows us how to walk with Jesus every step of the way. Thank you, Holy Father, for reminding us that, with Jesus at our side, we have nothing to fear!"
–Joe Paprocki, DMin
"Making an important contribution to the new evangelization, Walking with Jesus weaves together the major themes of Pope Francis's pontificate centered around the encounter with Christ. The perfect companion for those seeking to grow in their relationship with Christ, the Sacraments and the Holy Spirit, Walking with Jesus is sure to inspire you to follow in the footsteps of Pope Francis to grow in your faith."
- Julianne Stanz
Director of Evangelization
Diocese of Green Bay
"A wonderfully inspiring and stirring resource capturing the depth of Pope Francis's magnificent vision and mission. His powerful message speaks of the richness of Catholic story and tradition. Walking with Jesus: A Way Forward for the Church is an exceptional source of wisdom and guidance for all involved in the ministry of religious education."
- Edith Prendergast, RSC
Director Religious Education, Archdiocese Los Angeles 
"Pope Francis knows that the encounter with Jesus Christ puts our lives on a new path. Our life of faith is a journey that we are making with Jesus—walking with him, sharing his life, traveling in the company of brothers and sisters who have accepted his invitation: 'Follow me.' In this inspiring book, our Holy Father offers us bread for the journey—to deepen our friendship with Jesus and our fellowship in continuing his mission of mercy in our world."
—Most Reverend José H. Gomez, Archbishop of Los Angeles
"The words of Pope Francis paint a vision of a Church constantly on the move as a dynamic missionary community of disciples. He calls bishops, priests, catechists, and parents to become new evangelizers, giving living witness to the person of Jesus Christ while building up the Church. Taking this seriously could change the very nature of catechesis and clergy formation."
—Joyce S. Donahue, Catechetical Associate, Diocese of Joliet
"What a wonderful addition to our knowledge of the fresh and inspiring message of a revolutionary pope from 'the ends of the earth!'"
—Allan Figueroa Deck, SJ, Casassa Chair and Professor of Theology, Loyola Marymount University