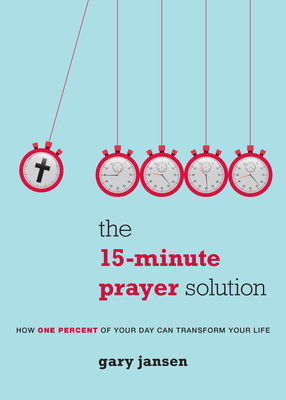 The 15-Minute Prayer Solution (Paperback)
How One Percent of Your Day Can Transform Your Life
Loyola Press, 9780829444070, 206pp.
Publication Date: December 1, 2015
Description
What might happen if you gave just ONE PERCENT of your day to God? I don't have time to pray. I don't know how to pray. I don't know what to pray for. Perhaps you identify with one or all of these statements; most people do. But with Gary Jansen's The 15-Minute Prayer Solution, anyone can learn to turn those "I don't" statements into "I do" declarations-- and be transformed in the process. Drawing on spiritual practices from the Christian tradition throughout the centuries, Jansen offers numerous and wide-ranging prayer exercises that can be completed in less than fifteen minutes. The Jesus Prayer, lectio divina, the Examen, imaginative prayer, and many more ways to joyfully encounter the Living God are explained. Deeply personal stories, thought provoking modern-day parables, and even humorous anecdotes bring spiritual ideas down to earth, revealing the practical side of prayer. And, as Jansen himself discovered, if you're willing to take just fifteen minutes a day to pray, you may soon find that the entirety of your life has become a prayer, a relentless desire to place God at the center of everything. Now in paperback: Gary Jansen's bestselling Exercising Your Soul retitled, repackaged and revised
About the Author
Gary Jansen is senior editor of religion and spirituality at the Crown Publishing Group at Penguin Random House. He is the author of The Rosary: A Journey to the Beloved and the bestselling memoir, Holy Ghosts. A popular lecturer and commentator, Jansen has appeared on A&E, the Sundance Channel, the Travel Channel, Coast to Coast AM, CNN.com and NPR. His writing has been featured in the Huffington Post, Religion Dispatches, and USA Today.
Advertisement