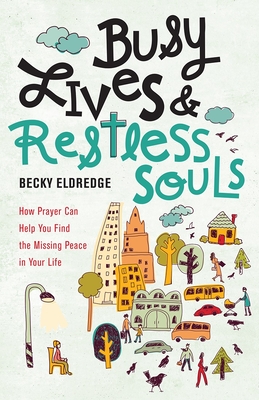 Busy Lives and Restless Souls
How Prayer Can Help You Find the Missing Peace in Your Life
Paperback

* Individual store prices may vary.
Description
2019 Best Book Awards, Finalist: Religion—Christian Inspirational

If you've already figured out your life and feel totally complete, then this book may not be for you. But if you are like the rest of us, every day presents a mountain of to-do items, jobs to go to, errands to run, projects to complete, meals to cook, children to raise... You forge ahead and get it done, but you know that things aren't as they should be. Even when you check every item off your daily list, you still feel as though something meaningful and essential is missing from the very center of your life.
 
Spiritual director and writer Becky Eldredge has felt that same longing, and she knows what people are missing—a relationship with God through prayer. In Busy Lives & Restless Souls, Eldredge interprets principles of Ignatian spirituality in a fresh way to equip us with prayer tools that are accessible and practical within the relentless realities of our daily routines. Just as important, she shows us how we can bring our relationship with God to life by becoming what St. Ignatius called "contemplatives in action." For all who sense that there is a missing peace in their lives, Busy Lives &Restless Souls will help them find it—right where they are.
Praise For Busy Lives and Restless Souls: How Prayer Can Help You Find the Missing Peace in Your Life…
I look forward to sharing Becky Eldredge's Busy Lives & Restless Souls with my students. What a delight--a young woman drawing on the wisdom of Ignatian spirituality to navigate the challenges of married life with children, while growing into a life of ministry. Becky offers a much-needed voice that will be a guide to many young women and men seeking lives of meaning and purpose.  
— Tim Muldoon

We are fortunate to have many, many books available to us on the theme of prayer and deepening spirituality. Why one more?
 
Becky Eldredge writes – and prays – from the real world! As Becky shares her God experiences with us, they are rooted in the everyday: the joys, the excitement, the gifts, the messiness, the worries, the sorrows of our everyday lives.
 
Becky highlights for us the reality that God is found everywhere, in all the happenings of our lives and that the time for our prayerful response is now – amid all the busy-ness! The many practical examples of prayer and listening to God are shared in a way that enables all of us to begin – or continue – using them within our sometimes harried, frenetic – but holy – lives.
— Janet Schaeffler, OP

A young, married woman's experiences, insights and profound reading of the Spiritual Exercises of St. Ignatius of Loyola, founder of the Society of Jesus (The Jesuits) and how they shaped her life. Having been immersed in the Exercises most of my adult life I found this book to be an inspiration, a challenge and a call to renew my own commitment to the Gospel of Jesus Christ. In a world full of conflicts, rage and confusion this book invites us into a place of solitude, peace, and encounter with the Divine presence in our midst.
— Prof. Francis Vanderwall, MA, M.Div., Ph.D.

Missing peace in your life? If so, Busy Lives and Restless Souls is balm for all weary souls. Weaving insights from her life as a wife, mother and minister, Becky crafts a book filled with practical advice, beautiful reflections and inspiring witness. A must read!
— Julianne Stanz

Becky is a wife, mother, author, spiritual director, retreat leader and a woman in her mid-thirties.  Hers is a fresh voice that speaks with the authority of a listening sage.  She has her thumb on the pulse of today's young adults. In warm-hearted prose illustrated with stories from her own busy, restless life, she guides her readers in pathways of prayer at once traditional and now newly re-discovered. This is a practical, readable guide, filled with tools to help young and old alike discover the holy present in our midst.
— J. Michael Sparough, SJ

I picked up this book because I knew nothing about Ignatian spirituality and I welcomed the chance to learn something new. As a pragmatic person, I found comfort in the practical advice that I learned is a hallmark of the Ignatian way of life and which is so clearly explained by author Becky Eldredge.
— Catholicmom.com

This book is written in a conversational and very accessible way, like having a talk with a good friend. If you've been yearning for a stronger relationship with God, this book might be a great first step to help you transform your way of thinking to find the peace of God everywhere and anywhere.
 
— Chris Hayden

Every once in a while a book comes along that feels like was written just for me. Busy Lives and Restless Souls is one of them. I am deeply appreciative of the way Becky brings the soulful and prayerful together with the practical and everyday. This is what I have struggled with for so long – how to stay connected to God and Spirit when I'm staring at a pile of dirty laundry, a sink full of dirty dishes, and a dog that is begging for a walk. I love her honesty, her stories, and her gentle, positive encouragement. I hadn't even finished the book when I began a new daily prayer practice. Much gratitude to Becky Eldredge for heeding the call and writing this book. It has changed my life.
 
— Christine Mason Miller
Loyola Press, 9780829444957, 152pp.
Publication Date: March 1, 2017
About the Author
BECKY ELDREDGE is an Ignatian-trained spiritual director, retreat facilitator, and writer who helps others create space to connect faith and everyday life. She is the author of Busy Lives & Restless Souls. She lives in Baton Rouge, Louisiana, with her husband and three children.​