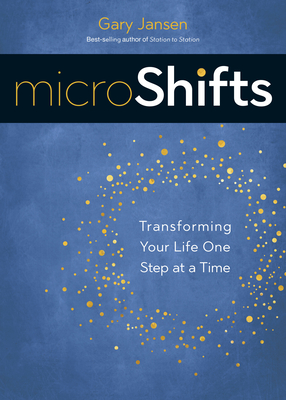 MicroShifts (Paperback)
Transforming Your Life One Step at a Time
Loyola Press, 9780829445367, 128pp.
Publication Date: February 15, 2019
* Individual store prices may vary.
Description
Is it really possible to change my life—in ways that will last?
 
Author Gary Jansen knows how difficult it can be to create significant, sustainable change in our lives. Sometimes we feel too overwhelmed to even start, and in other cases this self-work seems like one more burden. In his new book he offers an answer that he calls "microshifting"—small, incremental adjustments that gradually reshape our deeply rooted patterns.
 
With a blend of masterful storytelling and dozens of practical tips, MicroShifts suggests simple, small changes across many aspects of our lives—everything from how we greet others to how we try to talk to God—to generate big results physically, mentally, and spiritually. If you are looking for steps to improve your life that are achievable, sustainable, and potentially life-changing, MicroShifts is a powerful place to begin.
 
About the Author
GARY JANSEN is senior editor of religion and spirituality at the Crown Publishing Group at Penguin Random House. He is the author of The Rosary: A Journey to the Beloved and the bestselling memoir, Holy Ghosts. A popular lecturer and commentator, Jansen has appeared on A&E, the Sundance Channel, the Travel Channel, Coast to Coast AM, CNN.com and NPR. His writing has been featured in the Huffington Post, Religion Dispatches, and USA Today.
Praise For MicroShifts: Transforming Your Life One Step at a Time…
Jansen provides relatable experiences from his own life and offers the teaching of St. Ignatius, who spoke of seeking the sacred in all things, as proof positive of the transformative potential of microshifts. 
— René Ostberg, Editorial Assistant