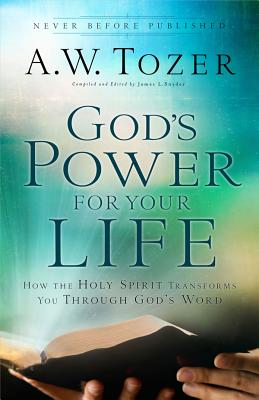 God's Power for Your Life: How the Holy Spirit Transforms You Through God's Word (Paperback)
How the Holy Spirit Transforms You Through God's Word
Regal Books, 9780830765379, 220pp.
Publication Date: April 19, 2013
Description
Live the Word in power.
A. W. Tozer, one of the twentieth century Church's most profound thinkers and pastors, believed that reading the Bible wasn't enough--the Word must come alive in the Christian's life. It isn't enough to read Scripture and then try to obey its commands; rather, living by the power of the Word is a Spirit-enabled transformation that leads to the Word becoming incarnate within the believer's life. In "God's Power for Your Life," the tenth book in a new library of never-before-published work by the renowned writer, Tozer teaches readers how to allow themselves to be shaped by the Spirit's work as they study of the Word of God.

About the Author
A. W. TOZER embarked upon a lifelong pursuit of God at the age of 17 after hearing a street preacher in Akron, Ohio. He was a self-taught pastor, writer and editor whose powerful messages continue to grip the hearts and stir the souls of today's believers. Follow his quotes at tozeraw@twitter.com.

James L. Snyder, general editor, is the pastor of the Family of God Fellowship in Ocala, Florida. He is recognized as an authority on the life and ministry of A.W. Tozer and has written a number of books and essays in Christian periodicals about Tozer. Snyder has a weekly radio ministry and writes a nationally syndicated newspaper column.
Advertisement