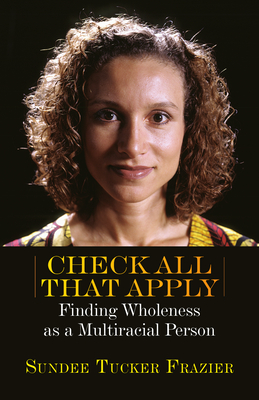 Check All That Apply (Paperback)
Finding Wholeness as a Multiracial Person
InterVarsity Press, 9780830822478, 199pp.
Publication Date: December 28, 2001
* Individual store prices may vary.
Description
Where do you fit? Who is your community? Who really understands you? Being multiracial is often confusing, frustrating and lonely. Perhaps you feel as Sundee Tucker Frazier sometimes does when faced with yet another form asking for her ethnic identifiction--like "none of the above." In this book, Frazier offers good news: God loves multiracial people and their interracial families. There is a special place for you in God's plan And God wants to give you a sense of wholeness, worth and belonging--as one made in God's very likeness. Frazier helps you understand the experiences that form who you are and shows how to connect with others like you. She offers insight for developing your ethnic identity, understanding your family of origin--even figuring out who to marry Most of all, she encourages you to gain a sense of God's purpose for your life. And for those who aren't multiracial themselves but know someone who is, she clarifies the challenges and rewards of sensitive relating. With Frazier you'll embark on a journey of personal discovery--with the goal of embracing all of who you are. You'll discover joy in living as a multiracial person as you gain the hope and courage to "check all that apply.