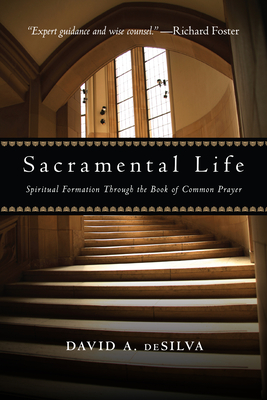 Sacramental Life: Spiritual Formation Through the Book of Common Prayer (Paperback)
Spiritual Formation Through the Book of Common Prayer
IVP Books, 9780830835188, 288pp.
Publication Date: July 30, 2008
Description
What happens when old meets new? As David deSilva has experienced the ancient wisdom of the Book of Common Prayer, he's been formed spiritually in deep and lasting ways. In these pages, he offers you a brand new way to use the Book of Common Prayer, that you too might experience new growth, new intimacy with God and a new lens through which to view the world. Focusing on the four sacramental rites of baptism, Eucharist, marriage and burial, deSilva explores each one in depth through the prayers, liturgies and Scripture readings of the Book of Common Prayer, and then adds his own devotional exercises that help you immediately apply what you've reflected on. As you read and contemplate the material, you may notice old habits, wrong beliefs and negative patterns being replaced with new desires and perspectives that help you draw ever closer to God. In this innovative and engaging resource David deSilva invites you in to a new way of being spiritually formed through an old book that has shaped thousands of disciples through the years. "I hope that, as you read and pray through this guide," he writes, "you will discover afresh the ways in which the rites contained in the Book of Common Prayer facilitate a genuine encounter with God, and a transforming experience of grace.
Advertisement