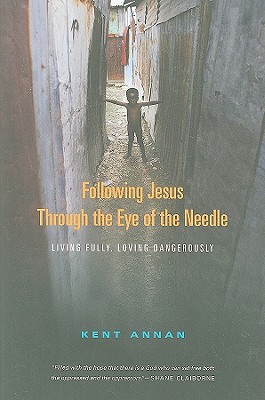 Following Jesus Through the Eye of the Needle: Living Fully, Loving Dangerously (Paperback)
Living Fully, Loving Dangerously
IVP Books, 9780830837304, 206pp.
Publication Date: November 4, 2009
* Individual store prices may vary.
or
Not Currently Available for Direct Purchase
Description
In 2003 Kent Annan left behind his prosperous, comfortable upbringing to face the world beyond its gates, where people wear his cast-off clothing and seek comfort from the heat in the long shadow of his homeland. Haiti, apparently, was where God wanted him. Of course, just because God wants you somewhere doesn't mean it's going to be easy. Little did he know how important his work would be. Now, in the aftermath of the 2010 earthquake, Annan's experience living and working in Haiti has become a powerful resource for those looking to learn more about this amazing country and find out how they can help Haiti rebuild and thrive. In this book you'll enter into Annan's experience traveling and working in Haiti, and ultimately you'll be challenged to follow God into uncharted territory on a path that may lead to your local soup kitchen--or to a Haitian relief settlement. Either way, you'll learn what it means to become vulnerable in order to help others and share the embodied love of Christ. Read Following Jesus Through the Eye of the Needle for a vivid picture of the Haiti Annan knows, the good work happening there through organizations like Haiti Partners, and the ways you can get involved. Whether you go or stay, you'll get a fresh sense of what it means to love God and love our neighbor when love is uncomfortable, even dangerous; to see what happens when God stretches you beyond your borders into his kingdom.
Advertisement