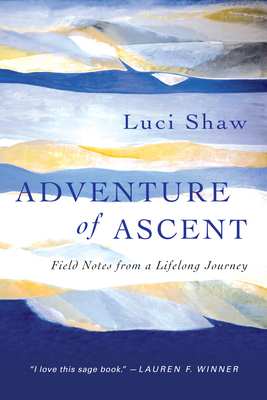 Adventure of Ascent
Field Notes from a Lifelong Journey
Paperback

* Individual store prices may vary.
Description
In this book, writer-poet Luci Shaw has given us a lifetime of exquisite reflections on nature, love, death, suffering, loss, faith, doubt, creativity, curiosity, lifelong learning--all of it drawn from the breadth of her own experience, harvested in penetrating and lyrical insights. Still active in her eighties, Luci now turns her attention to the season of edging toward the borders. Her spirit of adventure, her brave transparency, and her openness to all that life offers (as well as inflicts) makes her a captivating and hope-inspiring mentor. For most of us, growing older is a reality we put off as long as possible--until we realize with a shock that it is happening to us. We immediately look around to see how others on the path just ahead of us are dealing with it. So here is the intrepid Luci Shaw, taking readers on a virtual hike with her, with steps more deliberate and slow but also with surprising vistas that fill us with gratitude. In this book Luci serves as a fearless and eloquent scout. As she traverses new territory, she records her experiences lovingly, honestly, sorrowfully, joyfully--here's what it's like, and here's what to be ready for. These field notes will inform your own journey, no matter what your age.
IVP Books, 9780830843107, 176pp.
Publication Date: January 3, 2014