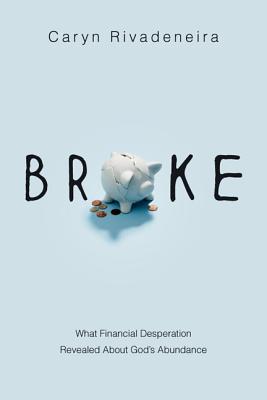 Broke (Paperback)
What Financial Desperation Revealed about God's Abundance
IVP Books, 9780830843114, 167pp.
Publication Date: March 5, 2014
* Individual store prices may vary.
Description
"Broke was not in the cards for me. . . . Girls then women like us stay strong through it all. A little (or big) financial setback doesn't break us. Or our connection to God." And yet, God let Caryn Rivadeneira and her family go dead broke. In the midst of this financial and spiritual desert, Caryn questioned God's goodness, wondering how he could feel so far away. Doesn't God promise blessing to those who serve him? Doesn't he hear his faithful followers' cries for provision and help? Join in Caryn's journey as she pursues God even when bruised, battered and broken by life. You'll laugh and cry with her as she experiences spiritual blessing and discovers God's goodness in ways she never expected. "We survived. I kept breathing. I kept stepping. And somewhere in the cracks, along the ragged edges of my marriage, in the desperate gasps of sudden poverty and all the questions that came with it, there was God. Big and glittering, soft and warm, smiling and beckoning. Somehow in the shimmers of all that, I began to taste and see, and feel and know, and hear and smell that God is good, and he was there in the broke bits." "In this time of longing to know what God was up to and to experience his goodness and presence, God worked me over by showing me where and how I could find him. Which is all over the place. In every last thing. He satisfied my wonderlust my unquenchable desire to feel his presence and to experience his glory. And I found him. And I found him good.
or
Not Currently Available for Direct Purchase