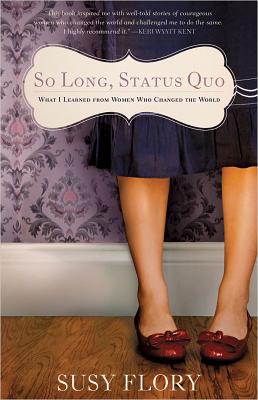 So Long, Status Quo (Paperback)
What I Learned from Women Who Changed the World
Beacon Hill Press of Kansas City, 9780834124387, 158pp.
Publication Date: February 15, 2009
* Individual store prices may vary.
Description
Susy Flory's life was a lot like her couch--comfy, slumberous, and safe. She was a happy suburban wife and mom who enjoyed her couch-like cocoon and avoided suffering and uncomfortable situations at all costs. Then she met Rosie... Eleanor... Elizabeth... and Jane. Now, thanks to their example, her life will never be the same.So Long, Status Quo is the powerful story of how nine amazing historical women inspired a suburban mom to abandon her safe, sheltered, vanilla existence for a life of passion, service, and significance. With challenging insight and honesty, Susy Flory shares about her struggles with selfishness and complacency and tells how the lives of these fascinating women challenged her to get up off her couch and embark on a quest for something more. Venturing into unusual and even dangerous places, she followed their example and found herself serving needy children on a secret humanitarian mission to Cuba, feeding the homeless, sharing her faith in pagan communities, and selling her jewelry to fund freshwater wells in Darfur, Sudan.Inspiring, convicting, and transformational, So Long, Status Quo challenges women to examine their lives and answer this question: what are you doing to get God's work done in the world? Whether it's by sharing your faith like Perpetua or getting your hands dirty like Rosie the Riveter, Susy's story invites women of all ages to say goodbye to their old, couch-comfy lives and become women who make a difference in their world.
About the Author
Susy Flory grew up on the back of a quarter horse in an outdoorsy family in Northern California. She attended Biola University and UCLA, where she received degrees in English and psychology. She has a background in journalism, education, and communications. Her first book, Fear Not Da Vinci: How to Use the Best-selling Novel to Share Your Faith, released in 2006. In addition to writing books and articles, she serves at her local church, and is a popular speaker and blogger. She lives with her family in Castro Valley, California.
or
Not Currently Available for Direct Purchase