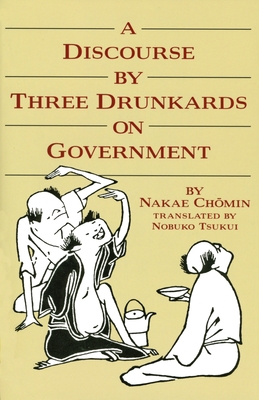 Discourse by Three Drunkards on Government (Paperback)
Weatherhill, 9780834801929, 144pp.
Publication Date: October 1, 1992
Description
A Discourse by Three Drunkards on Government takes the form of a debate between a spokesman for Western ideals of democracy and progress, and an advocate for adherence to traditional samurai values. Their discussion is moderated by the imperturbable Master Nankai, who loves nothing more than to drink and argue politics. The fiction of the drinking bout allowed Chomin to debate freely topical political issues, in a discussion that offers an astute analysis of contemporary European politics and a prophetic vision of Japan's direction. This lucid and precise translation of a delightful work has been designated one of the UNESCO series of classics of world literature.
About the Author
Nakae Chomin was one of Japan's seminal thinkers during the Meiji era (1868-1912), a time when the nation was attempting to leapfrog from feudalism into the modern world. The son of a low-ranking samurai family, Chomin (a pen name meaning "the masses") began his studies with the Chinese and Buddhist classics, later traveling to France where he studied political philosophy. After returning home he won a seat in Japan's first parliament, although he quickly resigned for reasons of conscience. Chomin's critical writings continually drew the ire of the government; he was often censured and at one point was sent into exile in Osaka. He nevertheless continued to write prolifically, despite poverty and illness, until his death in 1901.
Advertisement