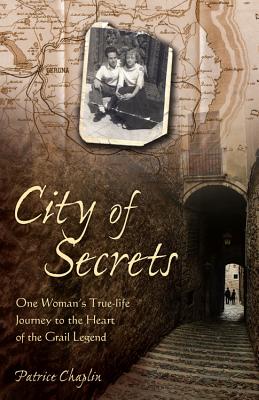 City of Secrets (Paperback)
One Woman's True-life Journey to the Heart of the Grail Legend
Quest Books, 9780835608718, 348pp.
Publication Date: July 1, 2008
* Individual store prices may vary.
Description
Patrice Chaplin began going to Girona, Spain, at age 15, and with each visit she became more enmeshed in its mysteries. She found a lover, Jose; met many strange characters; and heard dark talk of the legendary Abbé Saunière of Rennes-le-Château. She discovered that many of Girona's townspeople were part of a secret society formed to guard the Abbé's legacy and his knowledge of the Grail. Eventually the society asks Patrice to be the vehicle for revealing their secrets. This riveting account is the result of that request.
About the Author

Patrice Chaplin is an internationally renowned playwright and author who has written twenty-six books; her novel Siesta became a film starring Jodie Foster and Isabella Rossellini. As a Bohemian in Paris during the 50's and 60's, she spent time with Jean Paul Sartre and Simone de Beauvoir. Married to Charlie Chaplin's son Michael and living and working in Hollywood, she was friends with everyone from Lauren Bacall and Miles Davis, to Salvador Dali and Jean Cocteau, who gave her a starring role in one of his films. with Lauren Bacall, Miles Davis, and Salvador Dali. Chaplin has contributed to collections of short stories, including "Black Valentine" and "The Minerva Book of Short Stories". Her plays, documentaries, and short stories have been extensively written and adapted for radio. The short story "Night in Paris" has been translated in many countries, and other short stories of hers have appeared in magazines and newspapers, including The Independent. Her stage play "From the Balcony" was commissioned by The National Theatre in London in conjunction with Radio 3 and was performed at the Cottesloe Theatre. She has also written articles for publications including The Guardian, The Sunday Times, The Jewish Chronicle, The Daily Mail, Marie Claire, and The London Magazine. Today, Chaplin finds herself thrown deep into the Grail culture, and at the heart of a raging new controversy about the reality of the Rennes-le-Château mystery. Chaplin is the director of The Bridge®, a non-profit organization that leads workshops based in the performing arts as a new and unique way to help fight addiction. She resides in London and is currently writing The Garden of the Frenchwoman.

Praise For City of Secrets: One Woman's True-life Journey to the Heart of the Grail Legend…
"A fascinating personal journey which adds a new and inspiring chapter to the eternally mysterious story of the Grail.
" --John Matthews, author of The Grail: A Secret History

— Reviews

"An intriguing story with several levels that indicates a secret history and a mystery.
" --Z'ev ben Shimon Halevi, Kabbalistic writer
— Reviews

Endorsement for Patrice Chaplin's other work
: "A surging intensity that keeps the reader glued to the page, on the road, European style.
" -New York Times

— Reviews

Endorsement for Patrice Chaplin's other work
: "
A female Jack Karouac!
" -El Mundo, Madrid
— Reviews

Endorsement for Patrice Chaplin's other work
: "Powerful, romantic fiction in the tradition of Emily Bronte" -The Guardian

— Reviews
or
Not Currently Available for Direct Purchase