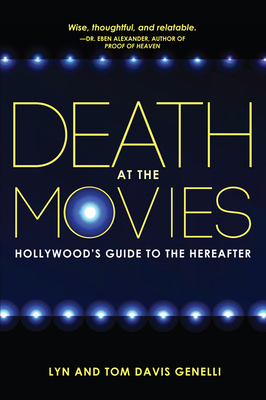 Death at the Movies (Paperback)
Hollywood's Guide to the Hereafter
Quest Books, 9780835609166, 200pp.
Publication Date: September 3, 2013
* Individual store prices may vary.
Description
It's a Wonderful Life (1946), Resurrection (1980), Poltergeist (1982), Beetlejuice (1988), Ghost (1990), Groundhog Day (1993), The Sixth Sense (1999) -- these are only a few of the influential movies in recent decades dealing with the afterlife. But beyond entertainment, do they mean anything? The authors of this wise and well-informed guide believe so. They explore how popular motion pictures, from Outward Bound (1930) to Hereafter, play a perhaps unconscious role in guiding humanity toward its evolutionary comprehension of the meaning and purpose of death. They draw on the Tibetan Book of the Dead, Buddhism, and depth psychology to review some of the most spiritually powerful films ever made. Death is, say the authors, at once the most immediate locked door and the ultimate frontier, a staggering paradox that invites us to search for deeper understanding based upon a level of consciousness beyond thought. After reading this book, you'll never view Casablanca or The Wizard of Oz the same way again.
About the Author

Lyn Davis Genelli has been a psychotherapist, consultant and workshop leader for over forty years. She is the co-founder of the Bay Area Institute for Integrative Body Psychotherapy. She also teaches hatha yoga and yoga nidra, and is a long-time practitioner of meditation.


Tom Davis Genelli cut his media teeth as third base cameraman for the Philadelphia Phillies before ascending to New York to become an independent film producer/director and an instructor in film production at New York's New School for Social Research. Returning to San Francisco for a Ph.D. in Psychology, he met Lyn, married and settled into a twenty-six year career as a therapist and Clinical Director for Conard House, Inc., a large, progressive mental health agency. He now writes a little, cooks and grows cacti. The Genellis share a profound conviction that the purpose of life is self-realization for the benefit of all. In the course of their respective careers, they began writing and publishing articles dealing with the cross-fertilization of film, psychology and spirituality as a way of expressing their joint conviction. Their articles have appeared in journals of psychology and popular culture, including Yoga Journal and Vogue.

Praise For Death at the Movies: Hollywood's Guide to the Hereafter…
"A spiritual tone overlays these authors' deconstruction of popular movies' commentary on death and the afterlife. While [the book] reads like a series of columns in a highbrow cinema magazine, the Genellis' work, like most of the more than sixty movies they mention, is both thoughtful and entertaining. The writing is light and crisp, often humorous with little comic asides about an actor, character, or plot arc, and each of the nineteen chapters could stand on its own as an article in a magazine. As the authors rather charmingly put it, after reading their book, filmgoers will 'never view Casablanca or The Wizard of Oz the same way again.'"
-Mark McLaughlin, ForeWord Reviews, Fall 2013

"The authors' analysis draws heavily upon eastern mystical traditions, which provides a unique and potent interpretive lens. Casual fans and film buffs will be encouraged to see these movies again through new eyes." --Publishers Weekly, June 10, 2013

"Death at the Movies appeals to the universal wish to know and understand what lies beyond our present existence. With keen insight, Lyn and Tom Davis Genelli use popular films as vehicles to explore perennial spiritual concepts about death and what follows, showing us profound examples of people coming to terms with their ultimate vulnerability as manifested by their unique experiences, and letting go. Their analyses are wise, thoughtful and relatable." --Dr. Eben Alexander, author of Proof of Heaven: A Neurosurgeon's Journey into the Afterlife

"Most moviegoers probably don't look to the cinema for answers to the great questions of life and death, or the possibilities of afterlife or rebirth. But Lyn and Tom Davis Genelli make a compelling case that Hollywood sometimes addresses these subjects with surprising insight. Death at the Movies is written with great knowledge of and love for the movies, as one would expect in a work of this nature. But the authors also bring their considerable experiences as human behavior professionals and spiritual practitioners to offer astute interpretations of the films they consider. You will never look at these films the same way as you did before." --Bill Shepard, author of The Somewhere in Time Story: Behind the Scenes of the Making of the Cult Romantic Fantasy Motion Picture and founder of filmblanc.info

"Lyn and Tom Davis Genelli show how what we might casually dismiss as an ephemeral medium actually resonates with important spiritual values. Their close examination of a number of classic films is conducted with both compassion and insight; the reader comes away with an enhanced understanding of the chosen films, what they can teach us about the transition from this life to what comes next, and how our personal values shape that transition. The films they have selected enable them to show us what we can expect when we slip the moorings of this life, let go of what is familiar and safe, and head into the unknown." --Tom Ruffles, author of Ghost Images: Cinema of the Afterlife
or
Not Currently Available for Direct Purchase