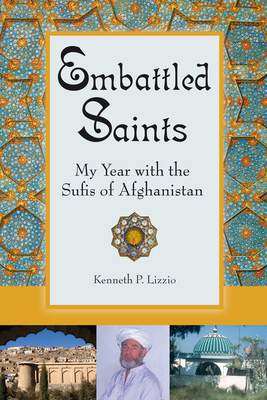 Embattled Saints
My Year with the Sufis of Afghanistan
Paperback

* Individual store prices may vary.
Description
Winner of the 2015 Benjamin Franklin Silver Award!
In the West, Islam has replaced Communism as the new bugbear, while Sufism, Islam's mystical dimension, is often dismissed as the delusions of an irrational and backward people. Ken Lizzio corrects such misperceptions in this firsthand account of the year he spent in 1991 living with the head of the Naqshbandis, Afghanistan's largest Sufi order. He presents the order in all its dimensions--social, economic, political, and spiritual--at a pivotal moment in history. He also gives a rare glimpse of everyday life in an Afghan Sufi school and of how the school has coped with the upheavals in its country.

Poignantly, the Naqshbandi way of life faces threats to its very existence. One threat lies in the creeping secularization of Islamic society, another in the dismissal of Sufism by various fundamentalist Islamic sects claiming the franchise on truth. But historically, Lizzio points out, Sufism has always been Islam's wellspring for spiritual revival. And because Sufis deal in matters that transcend time and cultures, they help outsiders understand not only the true nature of Islam, but the deeper meaning of all religions. The sound of that meaning echoes throughout this eloquent and fascinating memoir.
Praise For Embattled Saints: My Year with the Sufis of Afghanistan…
"This is exactly the kind of book we need to help us understand religions other than our own."
--Huston Smith, author of The World's Religions

— Reviews

"A welcome, rare, well-written, informative, and spiritually insightful excursion into the world of Afghan Sufism."
--Kabir Helminsk, Sufi teacher, translator, and author of Living Presence and The Knowing Heart

— Reviews

"The tragic wars, upheavals, and occupation of Afghanistan during the past several decades have caused many to forget that this land has always been a major focus for the presence of Sufism. In this authentic and well-written work, Kenneth Lizzio provides a vivid picture of living Sufism in Afghanistan by concentrating on a single Saifi order, the Mujaddidi. He also brings out the dangers that Sufism faces today from both modernism and exclusionistic fundamentalism, both of which threaten traditional Islam in Afghanistan as well as in the rest of the Islamic world" --Sayyed Hossein Nasr, author and Islamic philosopher
— Reviews

"The contemporary Afghan Sufi master, Saifur Rahman, died in June 2010 in Lahore, Pakistan. His life exemplified the fiery faith of the Naqshbandi Path, providing an antidote
to all -isms, but especially fundamentalism and Communism, against which he witnessed boldly and often for more than half a century. The present monograph evokes his person
and his passion in clear, lively prose, sprinkled with poetry and anecdotes at once apt and memorable. All drawn to the enduring font of mystical truth will find another instance of the Greater Jihad in this book."
--Professor Bruce B. Lawrence, translator of Fawa'id al-fu'ad (Morals of the Heart): Conversations from Shaykh Nizamuddin Awliya

— Reviews
Quest Books, 9780835609234, 288pp.
Publication Date: April 29, 2014
About the Author

Kenneth P. Lizzio is a specialist on Islam and holds a Ph.D. in Near Eastern Studies from the University of Arizona. He has taught anthropology at Winthrop and James Madison Universities. An international development specialist as well, he has served as democracy officer for the United States Agency for International Development in Rwanda, Indonesia, Macedonia and Guyana and held other posts in the Middle East and Africa.

or
Not Currently Available for Direct Purchase