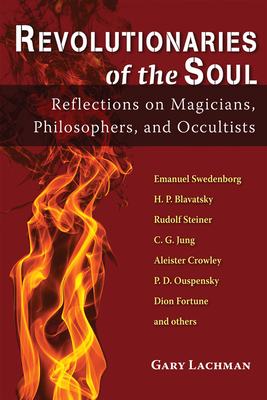 Revolutionaries of the Soul (Paperback)
Reflections on Magicians, Philosophers, and Occultists
Quest Books, 9780835609265, 304pp.
Publication Date: September 30, 2014
* Individual store prices may vary.
Description
Explorers of occult mysteries and the edges of consciousness change the way we view not only the nature of reality, but also our deepest sense of self. Insightful author Gary Lachman presents punchy, enlightening, and intriguing biographies of some of the most influential esoteric luminaries in recent history. His 16 subjects include Swedish mystical scientist Emanuel Swedenborg; H. P. Blavatsky, Russian cofounder of the Theosophical Society; Austrian philosopher Rudolf Steiner, who inspired the Waldorf School of education; Swiss visionary C. G. Jung, founder of depth psychology; notorious English ceremonial magician Aleister Crowley; Russian esotericist P. D. Ouspensky, explicator of Gurdjieff's early works; and British psychic artist Dion Fortune, who was influential in the modern revival of magical arts.
About the Author

Gary Lachman was a founder member of Blondie and wrote the group's early hits. Born in New Jersey and a longtime resident of both New York and Los Angeles, he now lives in London.

Praise For Revolutionaries of the Soul: Reflections on Magicians, Philosophers, and Occultists…
"Gary Lachman makes ideas thrilling. Open this book anywhere, start reading, and feel the world around you start to come to life." --Ptolemy Tompkins, author of The Modern Book of the Dead and collaborator with Dr. Eben Alexander on Proof of Heaven

— Reviews

"Gary Lachman spoils his readers -- after encountering his prose you will find no other writing on esoteric and occult subjects that displays such fluidity, vibrancy, and gentle but assertive purpose. Revolutionaries of the Soul is a nourishing, pleasurable feast of insight, and it highlights why Gary has become the voice for our generation that Colin Wilson was before him." --Mitch Horowitz, author of Occult America and One Simple Idea: How Positive Thinking Reshaped Modern Life

— Reviews

"Gary Lachman's new book is a delight to the reader, whether familiar with this field or new to it. Beside the 'usual suspects,' this esoteric hall of fame includes those initiators of a whole generation, Colin Wilson and James Webb, as well as some colorful newcomers. Lachman doesn't just tell us about them, but shows them reflected in his own life and mind, sharing the excitement, even trauma, of his discovery. Whether we like them or not, the intensity with which they lived out their destinies is an inspiration, and a challenge."
--Joscelyn Godwin, author of The Golden Thread and Atlantis and the Cycles of Time

— Reviews

"Staking out the sweet spot between scholarship and journalism, critical history and mystic sympathy, Gary Lachman has become one of the most insightful contemporary writers on the occult, and certainly one of the most enjoyable! Traipsing through this rogue's gallery of magicians, visionaries, and spiritual revolutionaries is like discovering a forgotten branch of the family--a charming reminder that reports of the death of enchantment in the modern world have been greatly exaggerated."
--Erik Davis, author of Nomad Codes: Adventures in Modern Esoterica

— Reviews
or
Not Currently Available for Direct Purchase