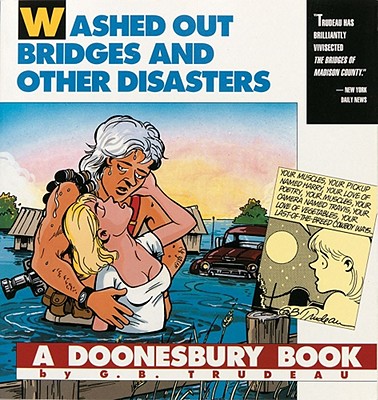 Washed Out Bridges and Other Disasters
Paperback

* Individual store prices may vary.
Description
"Humor is wry, partisan, and caustically combative. The satirical eye behind the comic strip Doonesbury, Garry Trudeau is America's most mirthful, cutting chronicler of these times." Esquire
"Trudeau has brilliantly vivisected The Bridges of Madison County." New York Daily News
Only in the fertile mind of Garry Trudeau would two events look like a cosmic convergence. For one, the Midwest suffered record floods, washing out riverbeds, roads, and rafters. The other? A bestseller chronicling the brief and unlikely love affair between an Iowa farm wife and a renowned photographer. Viola! Trudeau's masterpiece of literary adaptation: The Washed-Out Bridges of Madison County.
Boopsie stars in this satirical series, which opens as she hangs out laundry in a farm field swamped waist-high in floodwater. Photographer Robert Kincaid arrives to shoot his photo essay on the washed-out bridges and suddenly Boopsie is in over her head. "His body seems hard, lean, insistent, even though he appears to be over 50!" she thinks. "Look at him move...no, no, a gazelle! No, a dolphin! No, that's not it."
This hilarious collection also features other seminatural disasters that befall Trudeau's witty characters. Look in on Duke and Sid, who stage a Colorado avalanche so they can make a killing on the expected movie rights. (Duke waits it out in the tropics and makes it back just in time for the daring rescue.) Or check in with Mark, who discovers--via a dream in which AIDS casualty Andy Lippincott appears to him--that he's gay.
Throughout Trudeau's collection, The Washed-Out Bridges of Madison County, the artist's incisive views on current events provide entertainment in its highest--and sharpest--form. From politics to virtual reality to literature, no subject is safe from Trudeau's eagle eye. Everyone will find something in this talented pundit's take on American life.
Andrews McMeel Publishing, 9780836217476, 96pp.
Publication Date: March 1, 1994
or
Not Currently Available for Direct Purchase