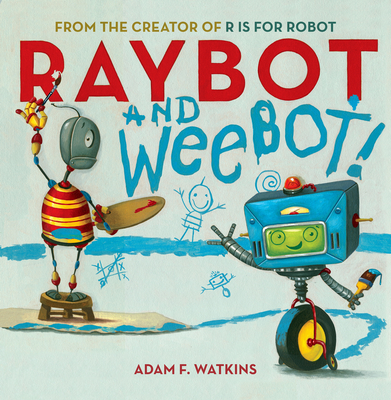 Raybot and Weebot (Hardcover)
Price Stern Sloan, 9780843183016, 32pp.
Publication Date: June 27, 2017
* Individual store prices may vary.
Description
Watch out, Raybot, there's a new robot in the junkyard! Weebot is cute, precocious, and looking for trouble. 
Raybot now has two friends, and he's never been happier. That is, until Weebot arrives at the junkyard. At first, Raybot enjoys being Weebot's big brother, but he soon sees that the little robot is noisy, messy, and always breaking Raybot's toys. Can Raybot learn to embrace the chaos caused by this adorable little robot, or will Weebot's excitability and endless energy become too much for Raybot to handle? Adam F. Watkins has crafted a new and hilarious tale of friendship and family in his third robot-themed picture book, Raybot and Weebot.
About the Author
Adam F. Watkins lives in southern Ohio with his wife, Amy, and daughter, Lucy. He graduated from the Columbus College of Art and Design in 2004, where he majored in illustration, studying under C. F. Payne his junior and senior years. He worked for an advertising agency in Cincinnati after graduation and is now a full-time freelancer. He loves children's books and the outdoors.