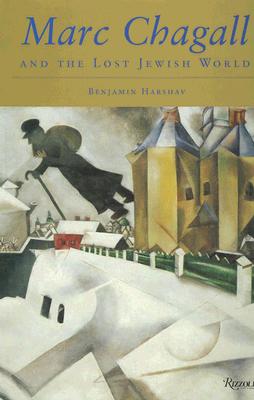 Marc Chagall and the Lost Jewish World
The Nature of Chagall's Art and Iconography
Hardcover

* Individual store prices may vary.
Description
"If I were not a Jew . . . I wouldn't have been an artist, or I would be a different artist altogether." -Marc Chagall, Leaves from My Notebook. Marc Chagall is one of the most popular artists of the 20th century, famous for his poetic, surreal images that represent a topsy-turvy world, combining fantasy and spirituality with a modernist style. This volume serves as a guide to the iconography of Chagall's best-loved work--in which he frequently included Jewish symbolism and folklore, sometimes overtly, sometimes in hidden, quite meaningful ways--offering insight into Chagall's Jewish roots and succinct interpretations of his major paintings, from his early masterpieces made in Russia and in Paris to his Yiddish art theater paintings. Harshav illuminates Chagall's most famous paintings of the Jewish shtetl, or provincial Russian town, and highlights the recognizable trademarks of his art, such as the "fiddler on the roof." It also interprets in detail Chagall's theater murals and his beautiful stained-glass windows at the Hadassah Hospital in Jerusalem. Although Chagall is not known only as a Jewish artist, his background was the prism through which he saw the world and served as the language of his universally loved art.
Rizzoli International Publications, 9780847828029, 256pp.
Publication Date: April 25, 2006
About the Author
Benjamin Harshav is professor of Comparative Literature, Hebrew language and Literature, and Slavic languages at Yale University. His many publications include Marc Chagall and His Times: A Documentary Narrative, Marc Chagall and the Jewish Theater, and Marc Chagall on Art and Culture.