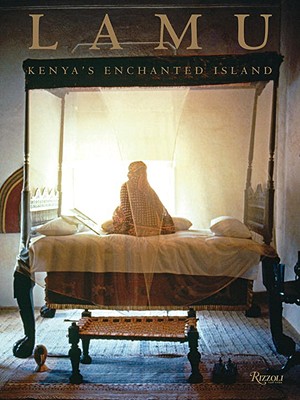 Lamu
Kenya's Enchanted Island
Hardcover

* Individual store prices may vary.
Description
Off the coast of northern Kenya is the island of Lamu--Kenya's oldest town and one of the original Swahili settlements along coastal East Africa. Listed by UNESCO as a prestigious world heritage site, Lamu offers visitors the hypnotic experience of entering another world. With 300 exquisite, specially commissioned photographs, the volume opens a window onto the island's enchanting and inspiring architecture, interiors, crafts, and traditions.
Praise For Lamu: Kenya's Enchanted Island…
From the most important photographers of African cultures comes this extraordinary portrait of Kenya's remote island paradise—and its lifestyle, crafts, architecture, decorative arts, and traditions.

"The publishing house of Rizzoli, with its reputation for visually stunning, high-quality books, never fails to please, and their new offering, Lamu: Kenya's Enchanted Island by George and Lorna Abungu, will definitely not disappoint travelers in search of a glimpse of paradise." ~BookPage
Rizzoli International Publications, 9780847832767, 280pp.
Publication Date: October 13, 2009
About the Author
Carol Beckwith and Angela Fisher are world-renowned photographers who have dedicated their lives to recording the traditional cultures of Africa. Their twelve published books include Maasai (1980), Africa Adorned (1984), African Ark (1990), Faces of Africa (2002), Surma/Karo (2007), Dinka (2008), and African Ceremonies (1999), which received the United Nations Award of Excellence. www.africanceremonies.com. David Coulson is an international photographer who made preservation of Africa's rock art heritage his life's work. His books include Different Drums (1987); Lost World of the Kalahari (1988); and African Rock Art (2001), among others. www.africanrockart.org. Nigel Pavitt is an author and photographer who has lived in Kenya for more than 50 years. His books include Kenya: The First Explorers (1989), Samburu (1991), Turkana (1997), Africa's Great Rift Valley (2001), and Kenya: A Country in the Making 1880--1940 (2008). George Abungu is a Cambridge trained archaeologist and former Director General of the National Museums of Kenya, as well as an international heritage consultant and Kenya's Representative to the UNESCO World Heritage Committee (2005--2009). www.abunguheritage.net. Lorna Abungu is an international heritage consultant and was recently awarded a Distinction for Service to African heritage by EPA (Benin) and by ICCROM (Rome). She formerly served as Executive Director of AFRICOM (International Council of African Museums).Ahmed Sheikh Nabhany is a world-renowned Swahili scholar and poet and descendant of the Nabhany rulers of Pate. Fulbright Scholar (UCLA) and author of books of Swahili poetry and prose. Pioneer of new words in the Swahili language including computer and television.Linda Donley-Reid. Ph.D. Cambridge University, is the former curator of Lamu Museum, has directed archaeological and ethnographic research on the symbolic use of space and objects within Swahili culture, and has restored a traditional Lamu house.
or
Not Currently Available for Direct Purchase