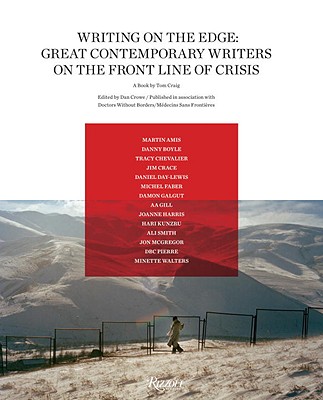 Writing on the Edge: Great Contemporary Writers on the Front Line of Crisis (Hardcover)
Great Contemporary Writers on the Front Line of Crisis
Rizzoli International Publications, 9780847832910, 276pp.
Publication Date: April 20, 2010
* Individual store prices may vary.
or
Not Currently Available for Direct Purchase
Description
Powerful essays by such luminaries and literary giants as Daniel Day-Lewis and Martin Amis offer a compassionate look at the crises that most affect our world today.
An important book for anyone interested in global issues, Writing on the Edge features twelve essays that take the reader to countries in crisis. Award-winning writer Martin Amis experienced firsthand the problems of gang violence in Colombia, South America; New York Times bestselling author Tracy Chevalier focuses on the abuse of women in Burundi, East Africa; Oscar-winning actor Daniel Day-Lewis writes of meeting children raised in war-torn Palestine; Booker Prize-winning author DBC Pierre addresses the unusually high incidence of mental health issues in Armenia. Award-winning photographer Tom Craig was commissioned by the humanitarian charity Medecins Sans Frontieres/Doctors without Borders to document the writers in these places in trouble. His striking photographs amplify the sense of compassion required while also demonstrating that beautiful humanity is the victim of tragedy.
About the Author
Renowned photographer Tom Craig has been nominated three times for British Magazine photographer of the year. Dan Crowe is the founder of blazingword.com, the literary editor of Another Magazine, and the author of How I Write: The Secret Lives of Authors (Rizzoli).
Praise For Writing on the Edge: Great Contemporary Writers on the Front Line of Crisis…
"In the collection Writing On the Edge, fourteen esteemed writers chronicle their travels with MSF teams through countries in crisis. Accompanied by Tom Craig's photographs, Martin Amis, Tracy Chevalier, Daniel Day Lewis and others take readers into rarely seen reaches of Colombia, Burundi, Gaza, Uzbekistan, Cambodia, Sierra Leone, Uganda, and elsewhere." ~The Huffington Post

"These art works, in their artistry and complexity of thought, start conversations, whereas most non-professional images and texts have the more straightforward task of delivering "subjectified" information. This is why a book like Writing on the Edge: Great Contemporary Writers on the Front Line of Crisis, which was created by photographer Tom Craig in conjunction with Médecins Sans Frontières, is an important anthology." ~The Last Magazine

"An important book with an unblinking view of global issues, Writing on the Edge features fourteen essays that take the reader on a harrowing tour of countries in crisis...These powerful stories, accompanied by Tom Craig's moving photographs make an impact on the reader that will not soon be forgotten." ~PhotographyBlog.com

"So it is with the stories and photos here which take the reader into some of the world's most persistent agony zones... To compile this panorama of suffering, photographer Tom Craig took with him some of the world's most eloquent writers and asked each to put into words the specific situations his photos could only hint at... Craig's 100 color pictures are both riveting and heartbreaking.. The spotlight is always on the downtrodden. In the end, the book suggests, the only sure victory is in the trying, in not turning away." ~Foreword

"Of course, reporting thusly is only the beginning, albeit an important one, as we cannot attempt to fix that which the world cannot or does not want to see. And from the perspective of these writers and researchers, there are few people or organizations that have much, beyond a sense of service, to gain in revealing these often intentionally obscured sights. But merely for that alone, we should be grateful for those who do." ~BlogOnBooks.com
Advertisement