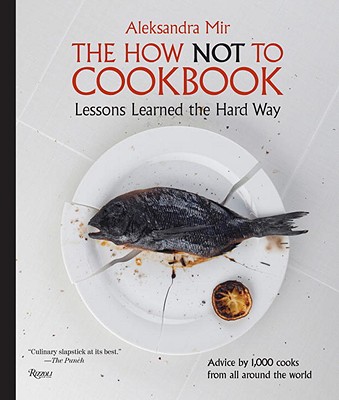 The How Not to Cookbook (Hardcover)
Lessons Learned the Hard Way
Rizzoli, 9780847834990, 320pp.
Publication Date: September 14, 2010
* Individual store prices may vary.
Description
Learn what not to do in the kitchen from this hilarious collection of real advice by real people. Sometimes the best way to learn is to make mistakes. That's the premise of this book—a sort of anti-cookbook. Fed up with our prevailing food culture of patronizing celebrity chefs with their rigid and often impossible instructions, Aleksandra Mir started a website to invite real people to send in their kitchen disaster stories, so that the rest of us could benefit from their experience. The result was a viral Internet phenomenon. Home cooks from around the world streamed in with advice. One thousand of their tips were then collected in this humorous and ultimately heartening and cathartic book. The packaging is as funny as the content too; it tricks you into thinking you've come across a vintage workhorse cookbook that's seen its share of abuse. Don't look here for recipes to be followed slavishly. Instead, this is a book to dip in and out of, choosing from among the wide variety of little gems that are always idiosyncratic, often opinionated, and never boring. Many will spark debate. Some may not be so practical but are wickedly funny. But the best part of the book is its reassurance that it's okay to be human, to make mistakes.
About the Author
Aleksandra Mir is an artist whose work has been exhibited at galleries and institutions such as the Guggenheim Museum, New York, the Royal Academy of Arts, London, ICA Philadelphia, SFMOMA, and the Whitney Museum, New York.
Praise For The How Not to Cookbook: Lessons Learned the Hard Way…
"For what is more a gallery installation than a cookbook, the artist Aleksandra Mir collected advice from home cooks around the world. Sample tidbit: "Do not cook when you are angry — your dishes will be furious too!" ~New York Times, "Best Culinary Cookbooks of 2010"

"In her memoir, My Life in France, Julia Child wrote, 'One of the secrets, and pleasures, of cooking is to learn to correct something if it goes awry; and one of the lessons is to grin and bear it if it cannot be fixed.' In the How Not to Cookbook, Aleksandra Mir has taken the 'grin and bear it' part to a whole new level.  Instead of a coffee table book, think of this as a kitchen counter book—something that you will dip into for solace and a few laughs the next time you burn the rice—or worse at your next dinner party." ~New York Journal of Books

"Some of the advice is rather ominous - don't fall off the ladder when you're picking cherries for Morello Jelly. Some of the advice is rather obvious - do not overcook anything! All of it is charming." ~Books for Cooks

"The 'Counter Space: Design and the Modern Kitchen' show currently at the Museum of Modern Art is a scholarly take on domestic cookery site's evolution over the course of the 20th century, but it pointedly ignores one aspect of the contemporary kitchen — namely that it's often a place of stomach-turning, fire-belching embarrassment. Luckily, artist Aleksandra Mir has stepped in with a reminder that even the best-designed kitchen can't protect home chefs from catastrophic cuisine with her new book..." ~ArtInfo.com

"...reading it is fun and it could save a neophyte from self immolation and other inconveniences. It made me laugh. And even think." ~Gael Greene, Insatiable Critic.com
or
Not Currently Available for Direct Purchase