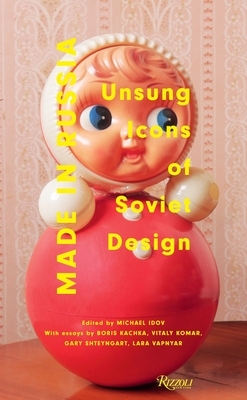 Made in Russia: Unsung Icons of Soviet Design (Hardcover)
Unsung Icons of Soviet Design
Rizzoli International Publications, 9780847836055, 222pp.
Publication Date: April 12, 2011
Description
This irreverent survey celebrates the more populist and enduring work in graphic and industrial design that was a product of the Soviet era - a period that remain politically sensitive and under-explored, yet whose influence on the objects and aesthetics of Russian life and thought has been profound.
Made in Russia presents fifty such masterpieces, from pioneers of Soviet technology such as the Sputnik, the Buran snowmobile, and the LOMO camera to icons of quotidian culture such as the fishnet shopping bag, the beveled glass, a Cold War-inspired arcade game, and Misha the Olympic bear. Edited by the journalist and author Michael Idov - a Soviet product himself - and including essays from Boris Kachka, Vitaly Komar, Gary Shteyngart, and Lara Vapnyar, the collection explores the provenance of these objects in the forgotten Soviet culture and the unique climate for design from which they could only have emerged.
About the Author
Michael Idov is a contributing editor at New York Magazine and the author of the 2009 novel Ground Up, published in English as well as Idov's own Russian translation. His essays have appeared in numerous publications including GQ, The Wall Street Journal, and The New Republic. He lives in New York City. Boris Kachka is a journalist and author whose writing has been published in New York Magazine, Conde Nast Traveler, and Russia! Magazine. Vitaly Komar ia a conceptual artist and, together with Alexander Melamid, one of the founders of the Sots Art movement. His work has appeared at the Metropolitan Museum of Art in New York, at the Walker Art Center in Minneapolis, and at the Venice Biennale. Gary Shteyngart is the best-selling author of fiction including The Russian Debutante's Handbook, Absurdistan, and Super Sad True Love Story. His writing has also appeared in The New Yorker, Granta, and The New York Times. Lara Vapnyar is the author of the novel Memoirs of a Muse and a collection of short stories, There Are Jews in My House. Her work has been published in The New Yorker and Harper's Magazine.
Praise For Made in Russia: Unsung Icons of Soviet Design…
"...the newly published Made in Russia: Unsung Icons of Soviet Design is a vital field guide to the peculiar tribe. With archival photographs and essays by America's favorite Russians—Komar, Shteyngart, Idov (the editor of the volume)—"Made in Russia" explicates the meaning behind dozens of consumer objects popular in the U.S.S.R.— collapsible drinking cups, electric hair dryers, Sputnik—the pride of the superpower. Had it been published a little sooner, it could have spared me years of confusion." ~The New Yorker

"Author Michael Idov has amassed the amusing creations from his childhood in Soviet Russia, culminating in this book, Made In Russia: Unsung Icons of Soviet Design (Rizzoli). The book is a collection of delighted insights, personal essays from leading Russian writers such as Gary Shteyngart, and quirky images curated by Idov, who was 15 when the curtain fell." ~Flaunt

"It's true that Iron Curtain motifs tend to conjure humorless functionality (c.f. 'Iron Curtain') or high kitsch, but this big-hearted compendium proves that even as the USSR began to disintegrate, it managed, through objects and toys and technologies, to articulate a national sensibility as confounding, elusive, and magical as the Pyramid Milk Carton." ~BlackBook

"Most Americans probably think of Soviet design as dreary and bland, the ultimate expression of function over form. But the bygone empire was full of quirky, charming and influential design objects as well. In the new book Made In Russia: Unsung Icons of Soviet Design (out April 12, by Rizzoli International Publications), Russian essayists delve into the history of Soviet style by examining 50 peculiar artifacts of the USSR, including ancient arcade games, radios that received only one station and cars built with ice fishing hatches." ~Popular Mechanics

"Made in Russia: Unsung Icons of Soviet Design (edited by New York's Michael Idov) a fascinating visual trip behind the Iron Curtain." New York Magazine
Advertisement