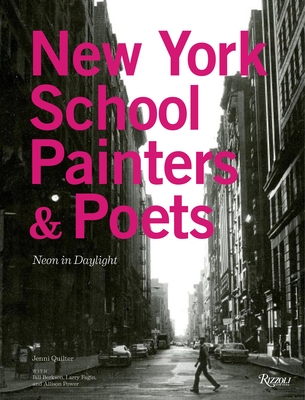 New York School Painters & Poets (Hardcover)
Neon in Daylight
Rizzoli, 9780847837861, 320pp.
Publication Date: October 28, 2014
* Individual store prices may vary.
Description
New York School Painters & Poets charts the collaborative milieu of New York City poets and artists in the mid-twentieth century. This unprecedented volume comprehensively reproduces rare ephemera, collecting and reprinting collaborations, paintings, drawings, poetry, letters, art reviews, photographs, dialogues, manifestos, and memories. Jenni Quilter offers a chronological survey of this milieu, which includes artists such as Willem de Kooning, Robert Motherwell, Alex Katz, Jasper Johns, Fairfield Porter, Larry Rivers, George Schneeman, and Rudy Burckhardt, plus writers John Ashbery, Bill Berkson, Ted Berrigan, Joe Brainard, Edwin Denby, Larry Fagin, Frank O'Hara, Charles North, Ron Padgett, James Schuyler, Anne Waldman, and more.
 
"Giving us for the first time a full picture of the scene these artists and writers shared," writes Carter Ratcliff in his foreword, "this book illuminates the unities and tensions, the playfulness and glamour and startling authenticity of their collaborations. Here we not only see evidence of a modus operandi. We also feel the exuberance of a certain modus vivendi, a way of life."

By Jenni Quilter, Edited by Allison Power, with Advisory Editors: Bill Berkson and Larry Fagin, and Forewords by Bill Berkson and Carter Ratcliff
About the Author
Jenni Quilter is an academic and non-fiction writer who teaches at New York University. Allison Power is an editor at Rizzoli New York. Bill Berkson is a poet, critic, and professor emeritus at the San Francisco Art Institute. Larry Fagin edits the Adventures in Poetry books and Sal Mimeo, a literary magazine. Carter Ratcliff's books on art include Out of the Box: The Reinvention of Art, 1965–1975 and Andy Warhol: Portraits.
Praise For New York School Painters & Poets: Neon in Daylight…
"Starred Book. Assembling text, visual art, and their interstices, this sumptuous volume documents the collaborative playfield where the New York School poets and painters thrived. With occasional critical text to guide readers along, the majority of this image-heavy treat goes to ephemera and rarely seen work. The art and poems are kept company by photographs of their creators, collaborating and partying, as well as literary magazine covers, notebook entries, postcards, and similar miscellanea. Although often studied, the school is rarely given such intimate, collective attention, and even figures as familiar as Willem de Kooning and John Ashbery become dynamic and surprising once more in this volume's smart handling." –Publisher's Weekly

"New York School Painters & Poets: Neon in Daylight, dedicated to the vibrant scene...New York School movement cropped up in the fifties and centered around a group of post-war poets and painters who influenced, and in many instances even collaborated on, each other's work…it also catalogues how their lives intersected at houses in Manhattan and the Hamptons, and includes intimate photos of small poetry readings, group vacations and late-night parties in small apartments, giving readers a small window into the kind of special things that happen when the right people happen to overlap in New York." –Vogue

"New York Painters & Poets is a fan's collection of ephemera, drawings, snapshots, newspaper reviews and interviews with key artists of the late 1940s-'50s in New York City. Everyone from Willem de Kooning to Jasper Johns is included, all of them partaking of the buttoned-down glamor of New York's explosion of non-representational art and free-form verse. More than nostalgia, the real theme is a way of life that in retrospect seems sweetly non-commercial, if a little addled by drink." –The Star Ledger