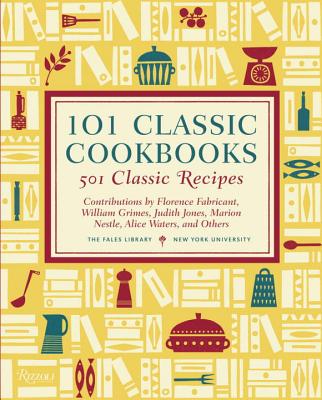 101 Classic Cookbooks
501 Classic Recipes
Hardcover

* Individual store prices may vary.
Description
Like a hall of fame for cookbooks, this is a food lover's dream collection, featuring 501 recipes from favorite authors. Any cook will tell you that in every cookbook there are a handful of recipes that rise to the top--the earmarked and most-stained pages. In this marvelous collection, 501 of these signature recipes have been carefully selected from 101 great cookbooks of the twentieth century--beloved tomes passed down through generations. The list of masterworks was chosen by an expert advisory committee that includes Jonathan Gold, Michael Pollan, and Ruth Reichl. It is like having a library of culinary classics condensed into one volume. You'll discover so many timeless gems, such as Julia Child's Boeuf Bourguignon, Elizabeth David's Bouillabaisse, Marcella Hazan's Bolognese Ragu, Jacques Pepin's Brioche, James Beard's Pig Hamburgers, and Irma Rombauer's Devil's Food Cake Cockaigne. But you'll also read about how these books and recipes revolutionized the way we eat. Interspersed throughout are nostalgic images from the vintage first editions. It is a fascinating culinary tour that in whole tells much of the story of American culture at large.
Praise For 101 Classic Cookbooks: 501 Classic Recipes…
"Best Books 2012: Cookbooks: This is an indisputably valuable reference. Essential for cookbook lovers and food historians, this curated collection offers signature recipes..." ~Library Journal

"101 Classic Cookbooks boils down the classic, most iconic cookbooks to 501 recipes." ~News Times

"This book will be a welcome gift for any cookbook collector. The breadth of the food history provided, along with the classic recipes from each book will provide many hours of enjoyment. Any one interested in tracking the history of the foodie movement in this country, or interested in trying many of the iconic recipes that have made a statement about who we are and how we like to eat, will be delighted to receive this book." ~About.com

"Published by Rizzoli, it is as much an art book as a recipe primer...Images of antique receipt books and mid-century food art make for great cultural history." ~The Paris Review

"A great cookbook and one you argue your way through: For opinionated cooks, 101 Classic Cookbooks provides pure joy." ~New York Journal of Books

"Best of" lists are a staple of magazines and websites. Leave it to Clark Wolf, one of the canniest food marketers around, to figure a way to turn one into a book. And a fascinating book at that... a collection that will inspire much good cooking and probably even more spirited discussion. What Wolf and company have done is compile a canon of American cookbookery. It's a handsome effort....Any amateur user of cookbooks will find much to love in these pages." ~Los Angeles Times

"If anyone wants  to get a thorough sense of the development of American gastronomy over the last 150 years, this is a book that will do it delectably...The repros of covers and pages from these cookbooks are a delight and will be a nostalgic trip for so many who bought these books when they were first published. It's a beautifully put-together book, as is Rizzoli's style." ~Esquire
Rizzoli International Publications, 9780847837939, 688pp.
Publication Date: October 9, 2012
About the Author
The Fales Library at New York University holds the largest collection of cookbooks in the United States. Under the directorship of Marvin Taylor, it has amassed more than 55,000 volumes related to food. It is also home to the well-regarded lecture series Critical Topics in Food, hosted by Clark Wolf. Marion Nestle writes the -Food Matters- column for the San Francisco Chronicle and is the author of Food Politics, Safe Food, What to Eat, and Why Calories Count.
or
Not Currently Available for Direct Purchase