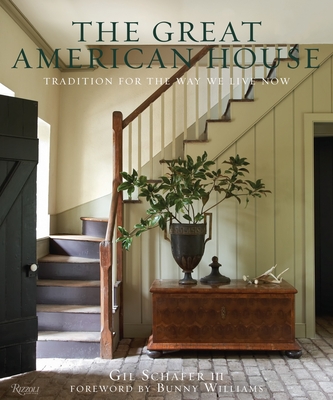 The Great American House
Tradition for the Way We Live Now
Hardcover

* Individual store prices may vary.
Description
Acclaimed architect Gil Schafer illustrates how he blends classical architecture, interior decoration, and landscape to create homes with a feeling of history. As a traditional architect, Gil Schafer specializes in building new "old" houses as well as renovating historic homes. His work takes the best of American historic and classical architecture—its detailed moldings and harmonious proportions—and updates it, retaining its character and detail while simultaneously reworking it to be more in tune with the way we live now—comfortable, practical, family-oriented. In his first book, Schafer covers the three essential cornerstones of creating a great traditional house: architecture, landscape, and decoration. He discusses the important interplay between the interior architecture and the fabrics, furniture, and wall treatments. In-depth profiles build on these essays, including Schafer's own new "old" house in the Hudson Valley; the renovation of a historic home in Nashville designed by Charles Platt in 1915; and the restoration of a magnificent 1843 Greek Revival mansion in Charleston. Filled with hundreds of interior and detail shots, The Great American House is an invaluable resource for anyone who loves old houses and traditional design.
Praise For The Great American House: Tradition for the Way We Live Now…
"...a stunning testimony to a life well-lived. His work melds the best of the past, present and future, with each home beautifully thought out, romantic and dreamy. Each of the 256 pages in this tome is an inspiration to build one perfect home in your lifetime." ~Papercity.com

"These pages document Schafer's love...and illustrate how thoughtful architecture can infuse the spaces in which we live with meaning." ~Veranda Magazine

"I opened the book, and before I knew it, a few hours had passed. And really, I can't imagine a better way to spend a few hours than to read Gil's engaging text and pore over the big, beautiful photos of his work." ~The Peak of Chic

"Anyone that has loved a house--or wants to fall in love all over again with their old one should get this book. Better yet-if you don't believe in Love- get the book, Schafer will convince you it can be found at Home." ~Littleaugury.com

"This is a remarkably good book, "The Great American House", should be on your list." ~mrsblandings.blogspot.com
Rizzoli, 9780847838721, 256pp.
Publication Date: September 18, 2012
About the Author
Award-winning architect and AD 100 member Gil Schafer is consistently recognized as one of the world's experts on contemporary classical architecture. From 1999 to 2006, Schafer served as president and then chairman of the Institute of Classical Architecture & Classical America. His work has been featured in many publications, including Elle Decor and the New York Times. Bunny Williams is an acclaimed interior designer and the author of four books, including An Affair with a House.