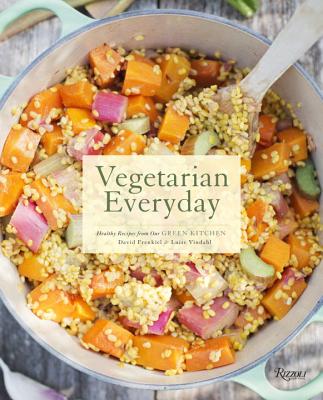 Vegetarian Everyday (Hardcover)
Healthy Recipes from Our Green Kitchen
Rizzoli, 9780847839605, 256pp.
Publication Date: April 30, 2013
* Individual store prices may vary.
Description
A fresh, seasonal take on vegetarian cooking—for the whole family. When David Frenkiel and Luise Vindahl became a couple, they decided to make a concerted effort to cook truly healthy food in their home together. When their daughter came along, this became even more important. They knew they wanted to stick to vegetarian, but they also knew the food had to be delicious, enticing, and wholesome. In this book they share recipes for families that they have developed in the past four years. Vegetarian Everyday is filled with innovative ideas for using nutritious whole ingredients in new ways. For instance, the authors use broccoli to create pesto, make a pie crust from ground almonds, and brighten up mushroom burgers with grilled peaches. Some of their most beloved recipes are Watermelon Gazpacho, Quinoa & Vegetable Chorizo Salad, Beet Bourginon, Zucchini Noodles with Marinated Mushrooms, and Frozen Strawberry Cheesecake. Because the recipes generally avoid dairy, refined flour, and sugar, this book provides plenty of inspired dishes for those with gluten and other allergies. Bursting with color and flavor, this is vegetarian cooking that the whole family can love.
About the Author
David Frenkiel and Luise Vindahl fell in love in Rome and returned to Stockholm where they became a couple and had their daughter, Elsa. The blog they started in 2009, "Green Kitchen Stories," has been featured on Design Sponge, the Kitchn, Saveur, and Babble and won a Saveur best blog award.
Praise For Vegetarian Everyday: Healthy Recipes from Our Green Kitchen…
"One of the best new vegetable cookbooks. The author's blog, focused on whole grains and vegetables, is almost too perfect… Stunning food images, all healthy dishes.." ~Food & Wine Magazine

"..A beautiful book full of truly healthy recipes. Many of the recipes are not only vegetarian, but also gluten free and vegan, yet they are still appealing and flavorful. This book would be an excellent choice for someone just transitioning to a healthier lifestyle, as the recipes are simple and easy to make..." ~Katieatthekitchendoor.com

"Yummy food that's good for you.." ~Kiwi Magazine

"The creators are known for their vibrant approach and this cookbook is filled with creative flavor combinations, gorgeous styling, and colorful photography. Ever since I got my hands on a copy I've been pursuing it daily, sighting with delight over the inspired recipes and stunning presentation. Most of them [recipes] are quite doable for a weekday breakfast, lunch, or dinner, and they're nutritious, so you feel even happier about making them for yourself and your family. Whether you're a longtime vegetarian, a newbie, or a veg-curious omnivore, the book is sure to introduce you to new and fresh ways of cooking." ~the Kitchn
 
"Vegetarian Everyday will have everyone in your family clamoring to eat their veggies." ~Republican Herald

"Personally I never imagined that such a wide variety of yummy sounding vegetarian dishes even existed. As I read through the book, I made a running list of recipes that I wanted to try... Vegetarian Everyday is by far the best vegetarian cookbook I've seen…If you want to eat healthy and don't know where to start, then I suggest Vegetarian Everyday. Vegetarians will find a nice selection of recipes that vary ingredients so you're not eating the same foods all the time. A blend of influences from Sweden, Italy, Japan, Morocco, France and India gives you a wide variety of tastes and textures. Let me stress that you don't have to become a vegetarian to take advantage of this book either. The possibilities are endless…" ~Snug Harbor Bay

"Their food is simple and wholesome and the recipes are inspired by their passion for raising a natural family. Their food is focused on being delicious and healthy both for adults and for the smaller members of the family, inspired by their teeny daughter. If you are raising a healthy family, their tips will be helpful for your journey, too. Vegetarian Everyday features 100 recipes divided into sections, along with some basics chapters to round out your pantry and your cooking techniques. The recipes are amazing: colorful, beautiful, wholesome and clean. These are the types of food you will want to eat everyday, and their simple preparation and ingredients make it easy to add these recipes to your repertoire; there are recipes for both quick weeknight meals and larger, weekend feasts. I am so excited about these recipes and hope to integrate them into my life too!" ~Andrea Bertoli, Vibrant Wellness Journal
or
Not Currently Available for Direct Purchase