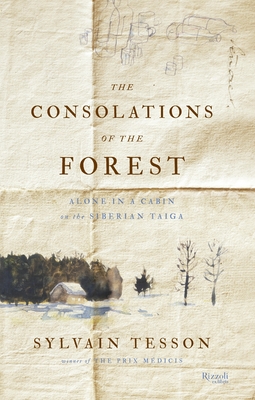 The Consolations of the Forest (Hardcover)
Alone in a Cabin on the Siberian Taiga
Rizzoli Ex Libris, 9780847841271, 244pp.
Publication Date: September 17, 2013
* Individual store prices may vary.
Description
A meditation on escaping the chaos of modern life and rediscovering the luxury of solitude. Winner of the Prix Médicis for nonfiction, The Consolations of the Forest is a Thoreau-esque quest to find solace, taken to the extreme. No stranger to inhospitable places, Sylvain Tesson exiles himself to a wooden cabin on Siberia's Lake Baikal, a full day's hike from any "neighbor," with his thoughts, his books, a couple of dogs, and many bottles of vodka for company. Writing from February to July, he shares his deep appreciation for the harsh but beautiful land, the resilient men and women who populate it, and the bizarre and tragic history that has given Siberia an almost mythological place in the imagination. Rich with observation, introspection, and the good humor necessary to laugh at his own folly, Tesson's memoir is about the ultimate freedom of owning your own time. Only in the hands of a gifted storyteller can an experiment in isolation become an exceptional adventure accessible to all. By recording his impressions in the face of silence, his struggles in a hostile environment, his hopes, doubts, and moments of pure joy in communion with nature, Tesson makes a decidedly out-of-the-ordinary experience relatable. The awe and joy are contagious, and one comes away with the comforting knowledge that "as long as there is a cabin deep in the woods, nothing is completely lost."
About the Author
Sylvain Tesson is a writer, journalist, and celebrated traveler. He has been exploring Central Asia—on foot, bicycle, and horse—since 1997. A best-seller in his native France, he is published all over the world—and now in the United States.
Praise For The Consolations of the Forest: Alone in a Cabin on the Siberian Taiga…
"…wry, exuberant and a perfect balm for anyone who dreams of running away to the middle of nowhere." ~San Francisco Chronicle

"One of the best fall travel books" ~National Geographic

"[One of] the best books of the year." ~Financial Times

"Like vodka thrown into a burning wood stove, this book blazes dangerously, beautifully, illuminating its subjects with mischievous flames of lyricism and wit. Brilliant and unforgettable." ~David George Haskell, Professor of Biology at The University of the South, author of The Forest Unseen: A Year's Watch In Nature, a finalist for the Pulitzer Prize

"This book is to be savored word by word. It is the diary of a man who spent six months by himself in a cabin on a Siberian lake. It contains beautiful and very evocative descriptions on the landscape, on solitude, on life, and on his numerous readings." ~Words and Peace

"Holiday Catalog/Staff Pick: If you fantasize regularly about moving alone to a cabin in the middle of nowhere, Consolations of the Forest might just be for you. Light-footed, insightful, diversionary, wry and delightfully unpretentious (no transcendentalism here), Tesson's book is the document of a vodka-fueled six-month solitude binge on the frozen edge of the deepest lake in the world." ~Booksmith

"Consolations of the forest [is] an extraordinary book…Tesson's literary gymnastics and personal eccentricities aside, Consolations of the Forest is also a paean to the vastness of Siberia and a way of life that, surely against the odds, still survives. It is a page-turner but one in the which the words themselves pull us from page to page until, like Tesson, we come to the end and must finally return to a more quotidian existence." ~Asian Review of Books
  
"Sylvain Tesson ventures where Thoreau only talked about—into the wilderness of nature and solitude. He writes with the lyrical cynicism of a Raymond Chandler about nature, kitsch, violence, herd behavior, and the glory of paying attention. Equipped with books, cigars, and vodka, plus a good knife and solar panels, Tesson takes time to look real life in the eye, and—in prose of startling clarity and candor—makes a spiritual quest both suspenseful and funny. 'I will finally find out,' he writes early on in his diary, 'if I have an inner life.' He does." ~Michael Sims, author of The Story of Charlotte's Web and the upcoming Adventures of Henry Thoreau

"...the pleasures of the few neighbors Tesson has — and the company of two puppies — enliven the narrative. It's almost enough to make the reader want to spend six months in isolation. Almost." ~Vol. 1 Brooklyn

"With The Consolations of the Forest, Tesson adds a modern voice to the rich literary history of contemplative nature writers like Thoreau and Emerson." ~ForeWord Reviews
 
"This book is to be savored work by word. I totally fell under the charm of its writing…I wanted to read and reread some passages, and that's why I took time to write down quotations. I have not done so to that extent for a long time, proof that this book is really amazingly beautiful…the author has a knack for seeing the beauty everywhere around him…something new and very refreshing." ~Words and Peace

"A French journalist's eloquently philosophical diary of the six months he spent fulfilling his dream to "live as a hermit deep in the woods" of Siberia. The deeper he probed his own mind and heart, the more aware he became of himself as just another animal, like the wolves and bears with whom he shared the landscape. Comparisons to Walden are inevitable and, to an extent, justified. Yet what makes Tesson's work so refreshing is its freedom from Thoreau-vian moralizing. Solitude may be necessary and healing; but living life as a fully realized human being with attachments to society is an art rather than a thing to be despised. Moving, wise and profound." ~Kirkus Reviews

"Tongue in cheek? Perhaps. Yet, for all his playfulness, Mr Tesson is in earnest. He loves the taiga and understands the Russians' almost mystical attachment to it. Move over Schopenhauer. Aika and Bek know where the "sweet spot" is—the present moment, that special place "between longing and regret" that Mr Tesson is ultimately in search of." ~Economist.com