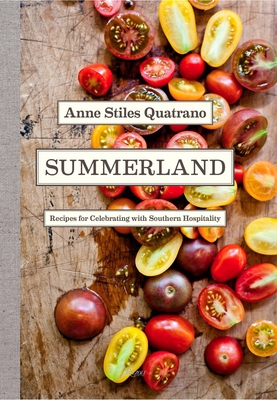 Summerland (Hardcover)
Recipes for Celebrating with Southern Hospitality
Rizzoli, 9780847841318, 256pp.
Publication Date: October 1, 2013
* Individual store prices may vary.
Description
A cookbook that makes each month's harvest a reason to celebrate, in the refined yet relaxed style of the South. For a cook as passionate as Anne Quatrano, food marks the passage of the year. Each month inspires her to think of new ways to use the season's morsels. In this, her first and long-awaited cookbook, Quatrano draws on her twenty-eight years' experience as a chef to pull together more than 100 of her best recipes and entertaining ideas. Peppered throughout are stories of Summerland—the farm that's been in Quatrano's family for five generations and that supplies much of the produce for her restaurants. Summerland also provides the idyllic backdrop for many of the outdoor parties in the book. For a fall lunch, friends gather by an old red barn to enjoy mint juleps, roasted quail, and madeleines. For July Fourth, it's a lakeside barbecue with watermelon sangria, corn on the cob in a jar, and roasted peaches with chamomile ice milk. Christmas is a quiet setting by the fire with truffled broccoli soup, roast with Yorkshire popovers, and stump de Noël. Summerland represents a new spirit of hospitality, based on refined farmhouse cooking and an easygoing sophistication.
About the Author
Anne Quatrano is one of the most accomplished chefs in the United States. Along with her husband, award-winning chef Clifford Harrison, she operates four of Atlanta's most celebrated restaurants—Bacchanalia, Floataway Café, Quinones, and Abattoir as well as a cook's market, Star Provisions. Named Best Chef of the Southeast by the James Beard Foundation and Best New Chef by Food & Wine, Quatrano has been featured in The New York Times, Southern Living, Garden & Gun, and Bon Appetit.
Praise For Summerland: Recipes for Celebrating with Southern Hospitality…
"While thumbing through the pages, we think you'll agree, this labor of love was definitely worth the wait." ~Atlantan Magazine

"The book goes way beyond a typical cookbook. It takes you through the seasons with recipes, entertaining ideas, and more. The photography is stunning. I recommend her beautiful book…" ~Magnoliadays.com

"Best Cookbooks of 2013. [One of 8 outstanding cookbooks every home cook should own] We made our criteria simple and home cook-centered: Cookbooks should have good storytelling that sets the food in context, instructions that are clear, and a visual sensibility that invites and inspires. A truly great cookbook should both challenge and comfort you, but most important, it should get used in the kitchen. So go ahead, splatter and stain those pages…" ~Epicurious

"...She nurtures a deeply rooted philosophy that focuses on simplicity and the finest fresh ingredients. This exceptional recipe collection focuses on seasonal celebratory menus for each month of the year." ~Victoria Magazine

"If you're starting to think about holiday shopping, this is, hands down, the one cookbook to give Atlanta food lovers this year." ~Atlanta Magazine

"In Summerland, Anne Quatrano has surely created a cause to celebrate with Southern hospitality. I have known Anne for 20 years, and her sensibility and flair for cooking wonderful Southern food is ever present. I have a deep passion for, and love of discovering the foods throughout America, and my inquisitive palate is simply enchanted by down home, feel good, Southern comfort food. Anne has a consciousness of the land, and its rich abundance of product, and in this beautiful book, she shares her elegantly gutsy cooking, all the while staying true to her southern roots. Congratulations Anne!" ~Lidia Bastianich, author of Lidia's Favorite Recipes
 
"As one of the first restaurateurs to transform a reverence for traditional cooking into a fresh, modern style, Anne Quatrano has inspired and nurtured a generation of young chefs. We can now bring Quatrano's unique brand of all-embracing southern hospitality-the artistry of the entire table, every element and every detail-to our own celebrations. After reading Summerland, we can say with certainty that our entertaining will never be the same!" ~Matt Lee and Ted Lee, authors of The Lee Bros. Charleston Kitchen
 
"I have known Anne for almost two decades and have had both the pleasure of eating her food and visiting Summerland. In this exquisitely photographed book she captures the spirit and essence of her farm, her cooking, and her entertaining style. Anne's Southern roots, her Northern upbringing, and her generous personality make her food truly unique. I have always been awed by Anne; her delicious food and her seemingly effortless yet perfect sense of style. Now I can have a bit of Anne in my own home." Emily Luchetti, author of The Fearless Baker

 "Summerland serves as the backdrop for seasonal soirees and recipes which personify the South's markedly refined yet relaxed style." ~Atlanta Homes and Lifestyles