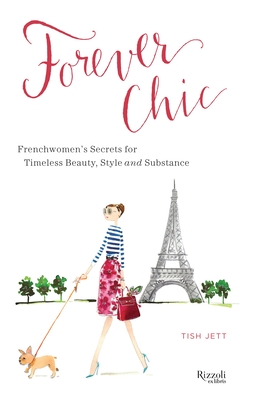 Forever Chic (Hardcover)
Frenchwomen's Secrets for Timeless Beauty, Style, and Substance
Rizzoli Ex Libris, 9780847841493, 240pp.
Publication Date: October 15, 2013
* Individual store prices may vary.
Description
For any woman who last saw forty on her speedometer comes a sparkling new primer for aging—the French way—with grace and style. Frenchwomen of a certain age (over forty) are captivating and complex. They appear younger than their years and remain stylish throughout their lives. They look at birthdays as a celebration of a life well-lived and perhaps a good reason to go shopping before they dress to perfection for a celebration of another anniversaire. American-born journalist and blogger Tish Jett has lived among the French for years and has studied them and stalked them to learn their secrets. Exploring how their wardrobe, beauty, diet, and hair rituals evolve with time and how some aspects of their signature styles never change, Jett shows how Frenchwomen know their strengths, hide their weaknesses, and never talk about their fears, failures, or flaws. After all, in France, beauty, style, and charm have no expiration dates!
About the Author
Tish Jett is a longtime fashion journalist who has worked for the New York Daily News, the Detroit Free Press, Women's Wear Daily, W, the Chicago Tribune, and the International Herald Tribune in Paris, where she eventually became the last editor of American Elle. The author of the blog A Femme d'Un Certain Age, Jett lives in France.
Praise For Forever Chic: Frenchwomen's Secrets for Timeless Beauty, Style, and Substance…
"French women have an enviable reputation for being svelte, sexy, and stylish and for possessing a certain je ne sais quoi that doesn't seem to diminish with age. Fashion journalist and editor Tish Jett reveals how middle-aged French women remain 'forever chic' in this detailed look at the diet, skin, hair, makeup and exercise regimen of la femme d'un certain age…this volume provides commonsense and decidedly French head-to-toe beauty routines that yield results. Readers will also learn how to use color, accessories, and figure-flattering clothing to emulate the classic Parisian sense of style. Verdict…worthwhile and entertaining." Library Journal

"In one word...Fabulous. The first print run sold out in a flash… now it's back on the shelves and not to be missed." ~VickiArcher.com
 
"Forever Chic is more than tips and tricks on being our better physical and stylish selves—it is full of lessons on how to be a better person. The book's strength lies in its anecdotes and wisdom on how women…can be more present and committed to living a fuller life of kindness, generosity, openness, and adventure." ~Women's Voices for Change

"Haven't you always wondered how [the French] can drink all that wine and eat all that beurre and remain slim and silky? Now comes a book that helps explain why. Forever Chic, written by Tish Jett (an American who spent years abroad) shares the secrets of what she calls the French "timeless beauty, style and substance." She spills some of their beauty secrets but also gets to the core of what makes them seem more comfortable in their skin." ~Huffington Post

"Jett's comments and sprinklings of French give the book a lively personality. Each chapter is indulgent fun." ~Publisher's Weekly

"…Tish has spent years observing the mysteriously intoxicating, and ever stylish French woman…I can't wait to begin reading." ~The Simply Luxurious Life

"There's wisdom to be had here…" ~Vogue Knitting