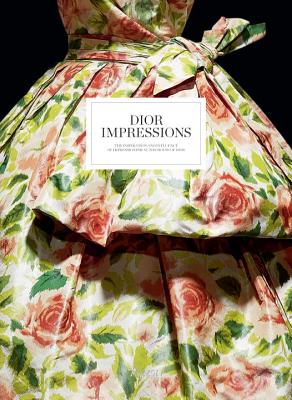 Dior Impressions (Hardcover)
The Inspiration and Influence of Impressionism at the House of Dior
Rizzoli, 9780847841547, 152pp.
Publication Date: September 17, 2013
* Individual store prices may vary.
Description
A gorgeous exploration of the relationship between the haute couture of Dior and the Impressionist movement. Christian Dior grew up in Granville, in Normandy, in a natural environment similar to the setting favored by the Impressionist artists. Throughout his career, he designed dresses that show links with this art movement, such as the elegance seen in the Impressionist paintings, with subtle connections through common themes such as nature, light, color, and the notion of movement. Published to accompany the Impressions Dior exhibition presented at the Musée Christian Dior in Granville, France, this lavish volume features over 150 pieces of gorgeous art—including noted artworks by Monet, Renoir, Degas, and Manet—alongside a magnificent visual tour of Dior garments, from Christian Dior's first designs to Raf Simons's latest collection.
About the Author
Florence Müller is an art and fashion historian and curator of numerous important exhibitions. She is professor at the Institut Français de la Mode. Philippe Thiébaut is the curator of the Musée d'Orsay. Farid Chenoune is a fashion historian and professor at the Ecole Nationale Supérieure des Arts Décoratifs.
Praise For Dior Impressions: The Inspiration and Influence of Impressionism at the House of Dior…
"Dior Impressions serves as a catalog for the eponymous exhibit... it is also a unique volume that approaches the artistry of the brand via comparisons to the impressionist painters and paintings of the 19th century. This stunning and yet diminutive volume provides the reader with addictive and arresting visuals as well as text that is simple and to the point. The beauty of Dior Impressions is that it can be appreciated on so many different levels. The reproduction quality is just astounding and the material is so jaw dropping as to proffer a truly heightened perception of just how amazingly talented Monsieur Dior was and how Mr. Galliano was the perfect successor. Dior fans and Galliano fans will get a healthy dose of fashion here. For the fashion initiated this is one helluva great way to learn about this fabled brand and some of its immeasurably talented designers." ~Jeffrey Felner, New York Journal of Books

"Christian Dior's dresses evoked the light, color and fluidity in the work of French Impressionists. And it wasn't by chance…published to accompany an exhibition at the Musee Chrisitan Dior in France, explores the 19th-century art movement's role in shaping the fashion house…" ~W Magazine

"…the book offers luminous photos that juxtapose the house's fabulous couture with the French Impressionist works...that helped inspire their creation." ~Manhattan Magazine

"This new Rizzoli book, which accompanies an exhibition running at the [Christian Dior] museum until Sept. 22. draws explicit parallels between Impressionist works and Dior designs by the house founder, along with those of John Galliano and Raf Simons. It shows paintings next to dresses that were inspired by them or that they resemble. Roses, lilies ofthe valley, poppies, tulips, wildflowers and even ivy tum up on all sorts of day cocktail and evening looks, but especially the last. "Each new collection is like a new spring, with the pieces of fabric as new shoots," Dior wrote in his memoirs." ~Women's Wear Daily

"Published to accompany the Impressions Dior exhibition presented at the Musée Christian Dior in Granville, France, the book features over 150 images of art by such luminaries as Monet, Renoir, Degas, and Manet, complemented by a range of garments from Christian Dior's first designs, to Raf Simons's latest collection. The book essentially connects the arts of painting and fashion, in a book that anyone with an interest in either will want for their library. We really love that." ~Brilliant Magazine
or
Not Currently Available for Direct Purchase