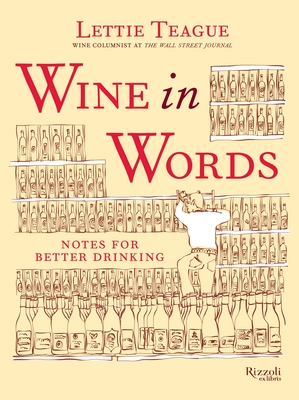 Wine in Words (Hardcover)
Notes for Better Drinking
Rizzoli Ex Libris, 9780847845439, 232pp.
Publication Date: April 14, 2015
Other Editions of This Title:
Hardcover (3/3/2020)
* Individual store prices may vary.
Description
Delectably brief essays that tell you only what you need to know to enjoy wine. There are wine encyclopedias, bibles, and guides—this is not one of those books. It doesn't contain everything, just the really important stuff: the truly key wines, grapes, regions; tips about wine buying, aging, and storage; and useful explanations about tasting notes and whether or not vintages really matter. In short, this book covers the real absolutes that you need to know about wine.With the pithy wit that readers of her columns have come to expect, Lettie Teague breaks down the stumbling blocks that often intimidate us and clears up the myths that cloud our understanding. A series of mini-essays cover the essentials in a fun, omnibus fashion. The tone is sometimes irreverent, sometimes opinionated, but always practical. For instance, there are entries such as "The Unbearable Oakiness of Being," "Can Wedding Wine Be Good," and "Why You Really Need Only One Glass." Other entries may provoke some lively debate, such as "Men Are from Cab, Women Are from Moscato" and "In Defense of Wine Snobs." The opposite of a didactic textbook, this volume is not meant to be read from start to finish. Instead, like wine itself, it encourages small contemplative sips. It is a companion for the modern taster, a concise and curated collection of tidbits to satisfy anyone with a lively curiosity and palate.
About the Author
Lettie Teague is the wine columnist at The Wall Street Journal and the winner of three James Beard Awards. Formerly, Teague was the wine columnist at Food & Wine for ten years. She is the author of Educating Peter and the coauthor of Fear of Wine.
Praise For Wine in Words: Notes for Better Drinking…
"The perfect book for oenophiles and oenophobes alike. Fun facts, crisp writing, and no pretensions. Lettie Teague has written the first and only wine book I could read from beginning to end without getting a hangover. Wine in Words should be on every bookshelf in America." —Nelson DeMille, novelist

"If Nora Ephron had been a wine journalist, her work would read like that of Lettie Teague." —Peter Hellman, journalist, The New York Sun

"Lettie Teague's Wine in Words can be joyfully paired with every reader who is seeking brilliant, entertaining, and incisive writing about all things wine." —Drew Nieporent, restaurateur, Tribeca Grill, Nobu, Bâtard

"Lettie Teague is a true original—witty, articulate, and in love with wine as well as fascinating people...One of America's most gifted commentators on all things about wine." —Robert M. Parker Jr., founder, The Wine Advocate

"Wine writer Lettie Teague — known for her blunt, chatty style that demystifies the cult of the grape without diluting its allure — has once again taken issue with highfalutin attitudes about the wine world. In her new book, Wine in Words, the Wall Street Journal wine columnist offers beginners a primer on the basics of acidity and structure, and gives wine snobs a piece of her mind. In quick-reading essays akin to small sips, Teague redeems Chablis, decries 'wine charms,' and wonders aloud about the future of wine in the state that spawned Snookie (hint: New Jersey.)" -Associated Press

"With ruminations on everything from wine regions to winery dogs, Wine in Words is an engaging read from a critic who is both knowledgeable and relatable. She's aware of the ABC (Anything But Chardonnay) club, has come to learn that wine can sometimes 'just be an adjunct to a meal,' and is wise to the practice of regifting bottles. Hence, her rules for getting it right." -Vogue.com

or
Not Currently Available for Direct Purchase