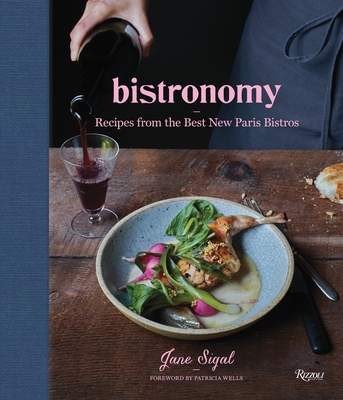 Bistronomy
Recipes from the Best New Paris Bistros
Hardcover

* Individual store prices may vary.
Description
Finalist for the IACP Cookbook Award, Chefs and Restaurants

French food reimagined by a new generation of chefs. There is a new movement afoot in Paris. Young chefs have turned their backs on stuffiness and are creating an experience that is more fun and a lot less formal. In tiny independent bistros mostly on the outskirts of the city, they are turning out fantastically inventive food that bypasses many of the old sauces and relies instead on the vibrancy of responsibly sourced ingredients. Because they are working in tiny kitchens with little or no staff, advance preparation is esteemed. (Good news for the home cook looking to crib kitchen notes.) Among their tricks (which could fit easily into anyone's repertoire) are finding inspired uses for humble root vegetables like rutabaga and parsnips, presenting a vegetable raw and cooked in the same dish, and revitalizing the classic crumble for dessert. 
In Bistronomy, Jane Sigal captures these chefs' creative approach, culling recipes that translate their genius in ways the home cook can achieve. From L'Ami Jean's chef Stéphane Jégo comes the soulful but unexpected Winter Squash Soup, accented with a cocoa whipped cream. Haricots Verts Salad with Strawberries and Feta is a charmer from Atsumi Sota at Clown Bar. And there is the showstopping Cherry and Beet Pavlova from Sean Kelly. The more than one hundred dishes in Bistronomy prove that these Paris bistros have become the idea factories of the culinary world. Like a trip to Paris, Bistronomy will make you fall in love with French cooking all over again.
Praise For Bistronomy: Recipes from the Best New Paris Bistros…
"Sigal does an exemplary job providing examples of the evolution of the French culinary scene, while also tapping into the foundations of French foods by including sections on food staples that will never change. . . Sigal knows the scene well and fully embraces new and innovative restaurants only found off the beaten path. Chefs are taking the starch out of tired French cooking and we couldn't be more excited." 
-BookTrib.com

"If you love good, classy food, you will surely love Bistronomy." 
-THE WASHINGTON BOOK REVIEW

"If anything can instantly transport you to Paris more than biting into a Laduree macaron, it's flipping through the new cookbook Bistronomy. Brimming with inventive recipes and incredible photos from the city's most-talked-about modern bistros, it's a book meant for both the cocktail table and the kitchen counter." 
-ARCHITECTURAL DIGEST

"Photographer Fredrika Stjärne has beautifully, and perfectly, captured the atmospheric French flavour and joie de vivre of casual dining, observing the details, and those that work and create in the bistros. The delicious recipes in this book will make you feel like you are sat down on a pretty side street in a charming bistro, soaking up the gallic charm of the City of Light…bon appétit!"
-TheLifestyleEditor.com

"This new generation of bistro chefs has found a way to create vibrant dishes while hewing to the dictates of a dull economy. . .[Jane Sigal] has in-depth knowledge of French culinary traditions, and has carefully adopted these recipes for the home cook." 
-NASHUA TELEGRAPH

"If you believe media who insist French cuisine has become stultified, open this beautiful book [Bistronomy] and be prepared to find that the best young chefs of Paris are doing stunning work, usually in homage to the classics but also wholly their own invention. . . A sense of conviviality and youthful enthusiasm runs through the book, without a scintilla of affectation." 
-THE HUFFINGTON POST

Two minutes after I got Bistronomy, I got cooking! The glorious photographs will transport you to Paris, and Jane's writing, her beautifully detailed instructions, and the collection of enticing recipes will send you to the kitchen to cook and cook some more."
—Dorie Greenspan, author of Baking Chez Moi and Around My French Table

"Bravo to Jane Sigal for having pulled together, with talent, all the details, culinary but also human, that define the personality of the bistro phenomenon that is Bistronomy!"
—Chef Guy Savoy

"I can't think of anyone more qualified to write about the ever-changing Paris bistro scene than Jane Sigal. The food in this book is thoroughly appealing and totally accessible to the home cook, so much so that you want to grab it and begin cooking, right away."
—Patricia Wells, author of Bistro Cooking and The Food Lover's Guide to Paris

"More than recipes, more than a guide: a vibrant homage to today's French cuisine."
—Chef Alain Ducasse
 

"[Jane Sigal] writes about what is happening in the hottest Parisian bistros today. This is modern day food, not your fatty duck cassoulet. There is also a lot of material on how the home cook can reproduce bistro food in the small house kitchen."
-GoodFoodRevolution.com
Rizzoli, 9780847846108, 240pp.
Publication Date: September 22, 2015
About the Author
Jane Sigal lived in Paris for twelve years and earned a Grand Diplôme at L'École de Cuisine La Varenne. She's a contributing writer at Food & Wine, and her articles appear in such publications as the New York Times, Saveur, The Wall Street Journal, Every Day with Rachael Ray, and Time Out New York. Patricia Wells is the celebrated author of Bistro Cooking and The Food Lover's Guide to Paris.