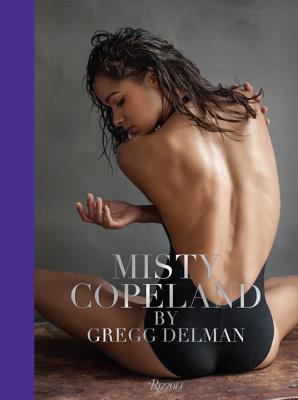 Misty Copeland (Hardcover)
Rizzoli, 9780847849710, 144pp.
Publication Date: September 27, 2016
Other Editions of This Title:
Hardcover (3/3/2020)
* Individual store prices may vary.
Description
The first authorized photographic tribute to the prolific and wildly inspiring ballerina,these unique and evocative artful color photographs by the celebrated photographer Gregg Delman, capture Misty's grace and strength, and are much anticipated by the worldwide audience who can't get enough of Misty.This stunning volume of photographs captures the sculpturally exquisite and iconic ballerina. Misty Copeland has single-handedly infused diversity and personality into the insular world of ballet, creating an unexpected resurgence of appreciation within contemporary popular culture. Her story is famously what movies are made of, and in 2015 she became an icon and household name when she became the first African-American female principal dancer in the long and prestigious history the American Ballet Theatre. Copeland's physique is what sculptures are modeled on, heralding the new physical ideal of strength and athleticism, beauty and grace. Misty Copeland is a collection of gorgeous, artful photographs, taken in many studio visits from 2011 through 2014. Delman's talent for capturing movement is reflected in these images, which range from formal ballet positions to more athletic poses and candid moments, all together building an intimate portrait of Copeland as an athlete, an artist, and a woman. With striking and vibrant color photographs, this incredibly intimate volume is a visual tribute to the brilliant mystique of Misty Copeland, showcasing both her grace and strength.
About the Author
Gregg Delman is an award-winning photographer who lives in New York City.
Praise For Misty Copeland…
"When I first met Misty Copeland years ago, she shared with me that she'd been told that she doesn't have a ballerina's body. Well, the 95 stunning portraits in the new book MISTY COPELAND prove how wrong that opinion was."
—Gayle King for O, The Oprah Magazine

"[Misty Copeland is] a collection of images taken in studio sessions over a span of four years that elegantly captures the beauty, grace, sensuality, strength and athleticism of its subject as she took the dance, fashion and entertainment worlds by storm."
—Parade Magazine

"[A] collaborative collection of images that celebrate the most well-known force in 21st-century ballet as she jumps, twists and stares powerfully into the camera." 
—HuffingtonPost.com

"This book is an exceptional partnership between the sensitive eye of the photographer and the magnificence, passion, and generosity of his subject."
—BroadwayWorld.com

"Featuring a foreword by Copeland herself and a mesmerizing array of portraits captured between 2011 and 2014, the tome boasts plenty for its namesake's now-worldwide fan base to consume and enjoy..."
—Manhattan & Beach Magazine

"Misty Copeland by Gregg Delman is the photographer's ode to the dancer, who is captured in dozens of magnificent poses so inspiring, we're seriously considering taking some ballet classes."
—Refinery29.com

"New York based Photographer Gregg Delman has teamed up with famed ballerina Misty Copeland to produce a book of her beautiful moves. The images are very artistic and a continuation of Copeland being a great role model for young ladies of color."
—PrettyBrownDancers.com

"Their [photoshoot] sessions resulted in 95 intimate portraits now showcased in Delman's book Misty Copeland, out earlier this week from Rizzoli."
—New York Magazine, The Cut

"Since becoming the first African-American woman to be named a principal dancer with the American Ballet Theatre, Copeland has become a cultural phenomenon, and Delman's arresting pictures capture her sinewy power and grace."
—USA Today

"Gregg Delman gives an intimate look into the life of Misty Copeland in this collection of artful photographs..."
—Bask Magazine