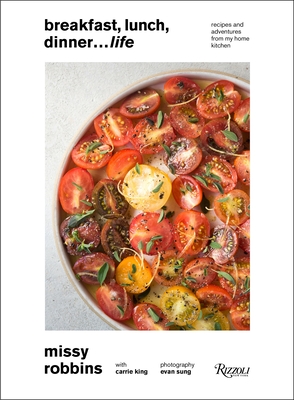 Breakfast, Lunch, Dinner... Life
Recipes and Adventures from My Home Kitchen
Hardcover

* Individual store prices may vary.
Description
FOREWORD INDIES Book of the Year Awards — 2017 BRONZE Winner for Cooking

In her first cookbook, the acclaimed chef, winner of a 2018 James Beard Award for Best Chef: New York City, shares her favorite cook-at-home recipes, inspired by her year off from professional cooking.

Missy Robbins had been on an upward trajectory through the ranks of chefdom, racking up accolades in Chicago at Spiaggia and in New York as the executive chef of A Voce Madison and A Voce Columbus, both of which earned Michelin stars under her leadership. But success in the grueling world of restaurant cooking took a toll, in sacrifices of time, health, and relationships. So in 2013 Robbins hung up the title of executive chef to explore life outside of the restaurant.

This book is a result of that year off: A collection of recipes that Robbins created in her tiny West Village kitchen while she rediscovered life outside of the restaurant world. These dishes, organized around essays narrating her year off, will help readers fall in love with cooking again, as Robbins did. In addition to pasta and the Italian-inspired dishes that Robbins is known for, there are her childhood favorites, such as chicken soup with ricotta dumplings, and breakfast, vegetable, and salad recipes, resulting from Robbins's commitment to healthier eating habits; there is also a chapter of Asian recipes, inspired by a long-wished-for trip to Vietnam and Thailand. Intimate, engaging, and filled with Robbins's signature thoughtful, ingredient-driven cooking, this cookbook gives readers the secrets to delicious and varied home cooking within a poignant story of self-discovery.
Praise For Breakfast, Lunch, Dinner... Life: Recipes and Adventures from My Home Kitchen…
"Chef Missy Robbins, who can't be written about without a mention of her time cooking at Chicago's Spiaggia, where the Obamas became fans of her food, is to thank for the menu. She's friendly and smart and down-to-earth - traits I've learned from devouring her new cookbook, "Breakfast, Lunch, Dinner ... Life!" As a memoir peppered with her home kitchen recipes, it's a good read that's also lovely to look at. Somewhere between instructions on how to build a pantry and grill summer beans (which were on the menu at Lilia on a recent visit) and steps for preparing fried chicken and, of course, pastas, is a section on the Italian aperitivo hour - and a simple little instruction to pour the perfect negroni."
—The New York Times, T Magazine

"The first cookbook from NYC chef Missy Robbins (A Voce, Lilia) comes out September 19. Angled as a cookbook-memoir, Breakfast, Lunch, Dinner...Life! Recipes and Adventures from My Home Kitchen is inspired by the year Robbins took off from cooking professionally to focus on her personal health and relationships"
—Eater.com

"The deal: Robbins' anticipated cookbook is like a look inside her culinary diary, with childhood favorites, signature Italian dishes, travel inspiration and more. Recipe to try: Any of the pasta dishes Good for: Home cooks looking for a challenge"
—AM New York 

"...inspired by a recipe from her new cookbook: Breakfast, Lunch Dinner....Life! Recipes and Adventures from My Home Kitchen. "
—Gothamist

"We know its not a pasta book, but InStyle notes that the book houses over 100 recipes that were 'all dreamed up right before Missy opened Italian hot spot Lilia.' "
—InStyle

"Before she opened the always-booked Lilia in Brooklyn, Robbins was exploring what it meant for a professional chef to actually take time for herself. These are the simple, beautifully balanced recipes that sustained her in the process. "
—TastingTable.com

"Lilia, known for its otherworldly homemade pastas, has been one of New York's hottest restaurants since it opened in 2016. But if you can't get a reservation (and if you can, take us, please?), chef Missy Robbins's first cookbook is the next best thing. In addition to the Italian dishes that earned her a Michelin star, she includes homey favorites like chicken soup and dumplings, lots of veggies and even some Asian recipes inspired by international travel."
—PureWOW.com

"As executive chef of A Voce Madison and A Voce Columbus in New York, her skills earned both restaurants Michelin stars before deciding to take a year off. Her first cookbook, Breakfast, Lunch, Dinner… Life!: Recipes and Adventures from My Home Kitchen, bears the fruits of that time, sharing the new world of cooking she discovered both in her tiny West Village kitchen, and travels around the world."
—Food & Wine Magazine

"Missy Robbins on Cooking Up Something New"
—Women's Wear Daily 

"The charming and welcoming chef, who recently moved to Williamsburg to be closer to Lilia, chatted with Domino about the book, how she stays healthy, and her favorite go-to recipes."
—Domino

"New York City chef Missy Robbins took a year off from the restaurant game, and the result is this cookbook, an ode to cooking for the joy of it. There are, of course, the Italian dishes Robbins is famous for, but she also includes healthy fare and some Thai and Vietnamese-inspired recipes after taking a trip to those countries."
—Food52.com

"In her new cookbook, Breakfast, Lunch, Dinner … Life: Recipes and Adventures from My Home Kitchen (which came out in September), Robbins reveals her favorite version of an all-purpose tomato sauce"
—Bloomberg Pursuits 

"Thankfully, when she's not sitting across from you, regaling you with the accounts of her pasta-making training in Italy, her new book, Breakfast, Lunch, Dinner...Life is there to keep the craving satisfied"
—Saveur.com 

"She is in the best shape of her life, she says, after adopting some healthier habits that have stuck with her, and has recently published a cookbook called Breakfast, Lunch, Dinner...Life where she shares the lessons and recipes she developed while she transitioned from cooking in a professional kitchen into much tighter and less lavishly-stocked quarters at home."
—Extra Crispy

"Missy Robbins has figured out a fundamental kitchen truth"
—Appetite For Books 

"After a career of more than 20 years as an executive chef in professional kitchens, Robbins finally embraced the joy of cooking for herself at the age of 42. She documents this personal journey (and self-discovery) through food in her new book, Breakfast, Lunch, Dinner… Life!"
—MyDomaine.com

"With a candid eye and a sense of humor, Robbins details her first days out of the kitchen and drops culinary wisdom culled from years in the business and extensive travel."
—Brownstoner
Rizzoli, 9780847859979, 224pp.
Publication Date: September 19, 2017
About the Author
Missy Robbins is recognized for her exemplary Italian cuisine. From 2008 to 2013, she was executive chef of New York's A Voce restaurants, during which time both received Michelin stars, which were maintained throughout her tenure. She opened her first restaurant, Lilia, in Brooklyn in 2016. Carrie King is a food writer and is the coauthor of Amanda Freitag's best-selling cookbook The Chef Next Door.