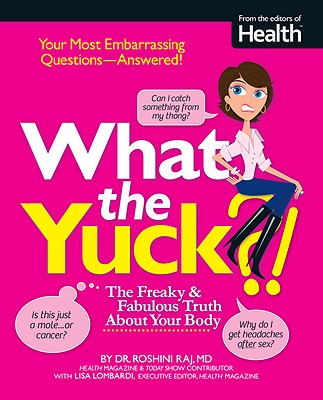 What the Yuck?: The Freaky & Fabulous Truth about Your Body (Paperback)
The Freaky & Fabulous Truth about Your Body
Oxmoor House, 9780848734176, 255pp.
Publication Date: August 3, 2010
* Individual store prices may vary.
or
Not Currently Available for Direct Purchase
Description
All women have concerns about their body that they are just too embarrassed to mention to their doctor. In "What The Yuck? " "Health Magazine" Medical Editor Dr. Roshini Rajapaksa (Dr. Raj) answers them all - from the serious like 'Is it bad that I drank margaritas before I realized I was pregnant?' and 'Could this mole be skin cancer?' to the offbeat like 'Can too many venti lattes (Green Tea latte made with Soy) give you a heart attack?' and 'Why do I get a headache when I eat chocolate cupcakes?' Dr. Raj sheds light on even the most confusing symptoms, telling readers when not to worry, and when to see their doctor. The book also shares insider tips from Dr. Raj, fascinating factoids - such as 'Most women have one breast that's larger than the other' - as well as poll results, so readers can see at a glance how many seemingly-weird body issues are actually healthy and normal. All 205 questions come from real women; they cover everyday health concerns and thoroughly modern conundrums, such as H1N1 (Swine Flu), celebrity diets, and mobile phone dangers. The book is organized by themes such as 'That time of the month' and 'Between the sheets', making it easy to navigate and irresistible to flip through. Sure to be a classic, "What The Yuck? " is a book women of all ages will want to own.
About the Author
Roshini Rajapaksa, MD, Health Magazine Medical Editor and Today Show contributor is an attending physician at NYU Medical Center/Tisch Hospital, and Assistant Professor of Medicine at the NYU School of Medicine. A Harvard graduate, she holds a medical degree from New York University School of Medicine and is board certified in Gastroenterology and Internal Medicine. Lisa Lombardi is the Executive Editor of Health Magazine and blogger at health.com. A graduate of Yale University, she has written extensively about health issues for a number of top publications and frequently appears as a media expert on several top national television shows.
Advertisement