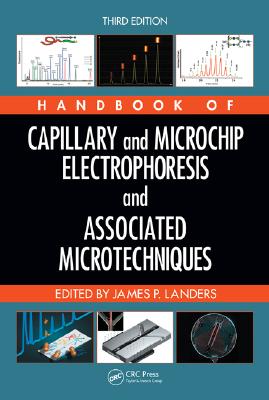 Handbook of Capillary and Microchip Electrophoresis and Associated Microtechniques (Hardcover)
CRC Press, 9780849333293, 1567pp.
Publication Date: December 18, 2007
* Individual store prices may vary.
Description
Although capillary electrophoresis (CE) technology has evolved quickly from the research laboratory into practical application in numerous fields, many scientists still debate its merits. While the body of international CE literature continues to expand dramatically, experts still question whether it has provided the speed, resolving power, peak capacity, sensitivity, robustness, and cost-reduction promised by its pioneers. Responding to these criticisms, this third edition brings together cutting-edge researchers to demonstrate the utility of CE across a broad spectrum of disciplines including-- Forensic science Medical diagnostics Pharmaceutical science Genetic analysis Biotechnology Fluid mechanics Environmental science Biomedical research Nanotechnology Proteomics
Detailed Analysis of New Methodologies and Applications
Eagerly awaited by researchers and technicians who transformed the first two editions into bestsellers, this latest volume once again delivers. Emphasizing microseparations and microfluidics, the Handbook of Capillary and Microchip Electrophoresis, Third Edition features new chapters describing the use of microchip electrophoresis and associated microtechniques, with a focus on the extraordinary breadth of work undertaken to expand CE methodologies in recent years. Aided by contributions from leading international experts, this text remains a seminal reference for numerous chemistry, biology, and engineering fields.
or
Not Currently Available for Direct Purchase