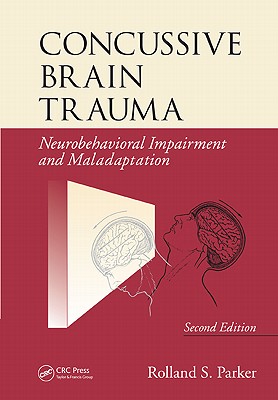 Concussive Brain Trauma (Hardcover)
Neurobehavioral Impairment & Maladaptation, Second Edition
CRC Press, 9780849380396, 879pp.
Publication Date: September 20, 2011
* Individual store prices may vary.
Description
Focusing on a public health problem affecting millions of people of all ages, the second edition of Concussive Brain Trauma: Neurobehavioral Impairment and Maladaptation reflects Dr. Rolland S. Parker's more than 25 years of neuropsychological practice and research in traumatic brain injury and stress, and his prior experience as a clinical psychologist.
Unique in its coverage of the personality changes, family dysfunction, and stress that often occur in the wake of concussive brain trauma, this book uses case examples to illustrate persistent and acute alterations of consciousness, as well as cognitive, mood, personality, and social effects of head injury in order to guide appropriate treatment. With six additional chapters, this edition covers:
Post-concussive syndrome, biomechanical causes of trauma, and acute and chronic phases of co-morbid brain and somatic injury The physiological basis for behavior and posttraumatic dysregulation of systems Disorders related to pain, sensation, and motor activities Headaches, consciousness, cognition, cerebral personality, and psychodynamic disorders Developmental effects of children's concussive injury Blast injuries characteristic of modern war Unfamiliar signs not included in the usual list of post-concussive symptoms
With a firm multi-disciplinary foundation, this book aids the concerned practitioner in rendering a more complete and accurate assessment, recognizing gaps in prior documentation, and conducting a more complete examination to acquire omitted information. It also shows how to achieve the benefit of higher accuracy in assessing disability, planning rehabilitation, and offering compensation. The book stands alone as an in-depth, authoritative guide to closed head injury and traumatic brain injury.
About the Author
Dr. Parker received his Ph.D. from the Graduate School of Arts and Science of New York University, where he studied with David Wechsler, Zygmunt A. Piotrowski, and Hans-Lukas Teuber. He was Adjunct Professor of Clinical Neurology at the New York University School of Medicine, a Diplomate of the American Board of Professional Psychology in Clinical Neuropsychology and Clinical Psychology, and a Fellow of the American Psychological Association. He specialized as a neuropsychologist, evaluating and treating persons who had incurred traumatic brain injury and posttraumatic stress, and authored many books and articles written for the general and professional public in the areas of personal development and traumatic brain injury. Dr. Parker organized and was President and Program Director of The New York Academy of Traumatic Brain Injury, Inc., for 10 years. His educational programs, which qualified for both Medical and Psychological Continuing Education credits, received the NYU Medical School Honors for Extramural Distinction. He practiced in hospitals, clinics, and private practice as a psychological examiner, and as a group or one-on-one psychotherapist for adults and children.
or
Not Currently Available for Direct Purchase