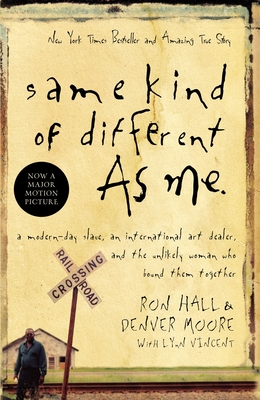 Same Kind of Different as Me: A Modern-Day Slave, an International Art Dealer, and the Unlikely Woman Who Bound Them Together (Paperback)
A Modern-Day Slave, an International Art Dealer, and the Unlikely Woman Who Bound Them Together
Thomas Nelson Publishers, 9780849919107, 244pp.
Publication Date: March 9, 2008
Description
A dangerous, homeless drifter who grew up picking
cotton in virtual slavery.
An upscale art dealer accustomed to the world
of Armani and Chanel.
A gutsy woman with a stubborn dream.
A story so incredible no novelist would dare dream it.
It begins outside a burning plantation hut in Louisiana. . . and an East Texas honky-tonk . . .and, without a doubt, in the heart of God. It unfolds in a Hollywood hacienda . . . an upscale New York gallery . . . a downtown dumpster. . . a Texas ranch. Gritty with pain and betrayal and brutality, it also shines with an unexpected, life-changing love. This incredible retelling now includes an interview with the authors and a reader's guide that is perfect for individual or group study. The most inspirational and emotionally gripping story of faith, fortitude, and friendship I have ever read. A powerful example of the healing, restorative power of forgiveness and the transformational, life changing power of unconditional love.--Mark Clayman, Executive Producer forthe Academy Award-nominated
The Pursuit of Happyness
Denver Moore and Ron Hall's story is one thatmoved me to tears. The friendship that formsbetween these two men at a time when both were ingreat need is an inspiration to all of us to be morecompassionate to everyone we come in contact with. This is truly a wonderful book --Mrs. Barbara Bush
Advertisement