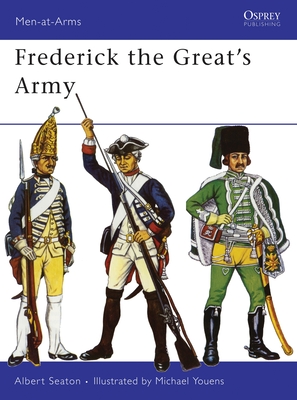 Frederick the Great's Army (Paperback)
Osprey Publishing, 9780850451511, 48pp.
Publication Date: June 15, 1973
* Individual store prices may vary.
or
Not Currently Available for Direct Purchase
Description
This book examines the uniforms, equipment, history and organisation of the men who served in the army of Frederick the Great. Major engagements in the First and Second Silesian Wars (1740 1742 and 1744 1745) and The Seven Years War (1756-1763)are all covered. Uniforms are shown in full illustrated detail.
About the Author
Lieutenant-Colonel Albert Seaton (Retd.) is the author of many books on Russian military history. His "The Russo-German War 1941-45" is one of the only complete and authoritative accounts published in the free world, and has appeared in London, New York and Frankfurt. His other works include "The Battle for Moscow," "Stalin as Military Commander" and "Stalingrad."
Advertisement