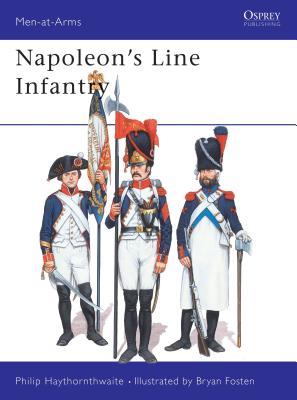 Napoleon's Line Infantry (Paperback)
Osprey Publishing (UK), 9780850455120, 48pp.
Publication Date: July 28, 1983
Description
Napoleon's line infantry was founded upon that of the Ancien Régime. A total re-organisation began on 1 January 1791 with the abolition of the old regimental titles, and over the next two years an increasing number of conscript and volunteer battalions were formed. Their quality varied from the proficiency of the early National Guard regiments to the untrained and ill-equipped rabble of the levée. To combine the discipline and steadiness of the regular army with the revolutionary fervour of the new army, the Amalgame was decreed on 21 February; by this measure each regular battalion became the nucleus of a new Demi-Brigade.
About the Author
Philip Haythornthwaite is an author and historical consultant specialising in the military history, uniforms and equipment of the 18th and 19th centuries. His main area of research covers the Napoleonic Wars. He has written some forty books, including more than 20 Osprey titles, and innumerable articles and papers on military history, but still finds time to indulge in his other great passion: cricket.
Advertisement