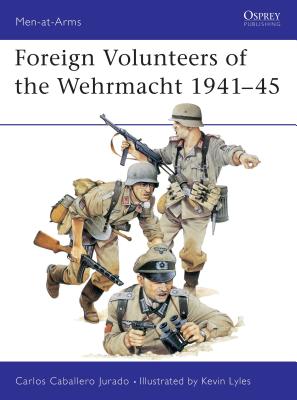 Foreign Volunteers of the Wehrmacht 1941-45 (Paperback)
Osprey Publishing, 9780850455243, 48pp.
Publication Date: November 24, 1983
* Individual store prices may vary.
or
Not Currently Available for Direct Purchase
Description
When speaking of the units of foreign volunteers integrated into the German forces during World War II, the Waffen-SS automatically comes to mind. But, in absolute numbers, more foreigners served with the Wehrmacht in the army, navy and air force. Anti-Communism was the most significant reason why so many volunteers were induced to wear the German uniform. This title examines the Wehrmacht's foreign volunteers, taking a close look at their uniforms, organisation and distinctive insignia. Among those covered are the Legion Wallanie, LVF, Ostlegionen, Balkan volunteers, Hiwis, Kalmucks, Cossacks, Baltic, Russian and Ukranian volunteers.
About the Author
Carlos Caballero Jurado was born in Ciudad Real, Spain, in 1957. He served as an NCO in the Spanish Army's Division Brunete (1st Armoured Division) and later graduated with a BA in History from the University of Alicante. He has written and co-written numerous books and articles on military historical subjects, including four Osprey titles. Carlos is a history teacher in Alicante
Advertisement