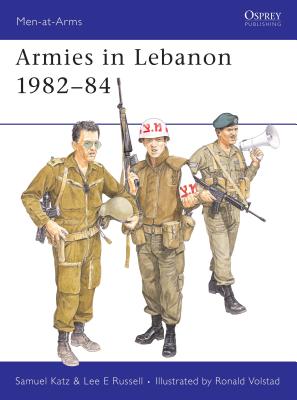 Armies in Lebanon 1982-84 (Paperback)
Osprey Publishing, 9780850456028, 48pp.
Publication Date: July 25, 1985
* Individual store prices may vary.
or
Not Currently Available for Direct Purchase
Description
The Lebanese Civil War of 1975-76 caused 80,000 dead and totally split the country along factional lines. An estimated 50 different militias came into existence, and acts of violence were both individual and collective. In the midst of this explosive atmosphere, cross-border conflict between Israel and Lebanon intensified, culminating in Operation Peace for Galilee - the invasion of Lebanon. This book offers a day-by-day account of the invasion and the subsequent siege of Beirut, an operation that resulted in both the PLO and Israel claiming victory. Numerous photographs and colour plates portray the uniforms and equipment of the Israeli, Palestinian and Multi-National forces.
About the Author
Samuel Katz was born in 1963, and joined the Israeli Defence Forces in 1981. He volunteered for naval duty, and qualified for service in a combat posting. He served in the HEYL HAYAM during the conflict in Lebanon in 1982. He has written numerous articles for Hebrew publications and has co-authored several books on the IDF and related Middle Eastern topics. His particular interest lies in the development of IDF elite and counter-terrorist units. Sam is recognised worldwide as an expert on this subject. He is married, and lives in New York. Lee E Russell was born in 1947. He served in the US Army from 1966 to 1968, including a year in Vietnam's Northern and Central provinces, with the 14th Engineer Bn (Combat). He specializes in 20th century uniforms and equipment and is a member of the Company of Military Historians and the Association of American Military Uniform Collectors. He has written several titles for Osprey over the years, and has also worked as a consultant on military dress for motion pictures, television and the stage. He lives and works in New York City.
Advertisement