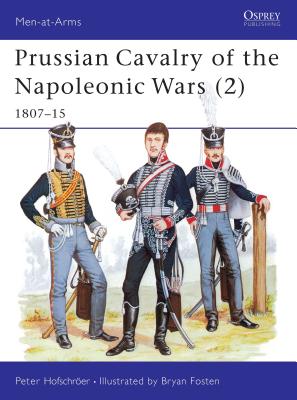 Prussian Cavalry of the Napoleonic Wars (2): 1807-15 (Paperback)
1807-15
Osprey Publishing, 9780850456837, 48pp.
Publication Date: March 27, 1985
* Individual store prices may vary.
or
Not Currently Available for Direct Purchase
Description
After Prussia's dismemberment a drastic re-organisation of the entire army was necessary, and the cavalry underwent this process with the rest. At the time of the mobilisation in 1813, the somewhat reduced mounted arm was supplemented by voluntary and militia formations; and once peace was established after the First Abdication, a further re-organisation was begun. The fateful campaign of 1815 was fought with the Prussian cavalry still in the throes of this re-organisation. Packed with diagrams, illustrations and eight full page colour plates by Bryan Fosten, this book by Peter Hofschröer details the history, organisation, equipment and uniforms of the Prussian cavalry which fought in the Napoleonic Wars.
About the Author
Peter Hofschroer is a qualified historian and linguist specialising in the Napoleonic Wars. His two volume work 1815: The Waterloo Campaign received the 1999 Napoleonic Society of America Literary Award. He is a well-known contributor to various academic and hobby magazines, is a fellow of the International Napoleonic Society and has been twice awarded the Bismarck Memorial Medal. His previous works include Campaign 25 Leipzig 1813.
Advertisement