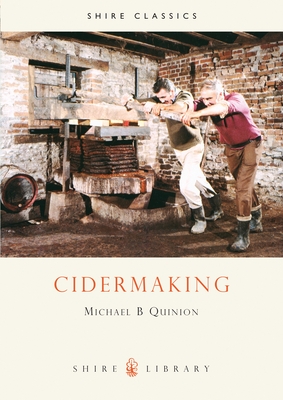 Cidermaking (Paperback)
Shire, 9780852636145, 32pp.
Publication Date: April 21, 2009
* Individual store prices may vary.
or
Not Currently Available for Direct Purchase
Description
Cider has been made in pastoral areas of Britain and north-western Europe since ancient times and the techniques of rural cider makers are still in use today. This book explains the methods and traditions of the rustic orchardist and farm cider maker and describes the procedures of the travelling Victorian with his portable cider mill and press. The author also discusses modern, factory-based cider production, influenced by the time-honoured customs of the past, yet adapted to producing large quantities of cider for the mass consumer markets of the twentieth century.
About the Author
Michael Quinion was the first Curator of the Museum of Cider at Hereford, Britain's specialist museum of orcharding and cidermaking. As well as supervising the development of the museum, he organised a broad programme of research into the history and technology of cidermaking, including conversations with over six hundred farm cidermakers past and present. Michael Quinion was previously a BBC radio producer and later ran a business creating audio-visual programmes for heritage sites. After leaving the Museum he co-founded a national consultancy in heritage development, Touchstone, for which he continues to work as a freelancer. His other main interests are lexicography and computer programming.
Praise For Cidermaking…
"This slender 32-page paperback, with its newspaper-quality black-and-white photos and no-nonsense layout, provides an overview of this age-old craft. The book explains the techniques and traditions of the rustic orchardists of Britain and northwestern Europe. Not exactly a how-to book; it's more of a genteel discussion of a fine traditional rural handcraft." -Renaissance Magazine (August 2009)
Advertisement