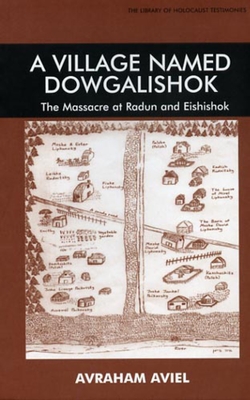 A Village Named Dowgalishok
The Massacre at Radun and Eishishok (Library of Holocaust Testimonies)
Paperback

* Individual store prices may vary.
Description
This unique and true story of a young boy, skillfully describes the small Jewish agricultural village of Dowgalishok in eastern Poland (modern-day Belarus) and its neighboring towns of Radun and Eishishok. With a loving eye for detail the Jewish atmosphere is brought to life along with the village inhabitants, from the pastoral days before the Second World War to its sudden destruction by the Nazi regime. The first part of the book is a vivid description of Yiddish-kite that has vanished forever. The second part is a bleak testimony of a survivor of the ghetto and the slaughter beside the terrible death pit outside Radun. The third and last part of the book is the story of twenty-six months of escape and struggle for life, first in the woods among farmers and later on as a partisan in the nearby ancient forest. The author tells his story in a simple and fluent style, creating both a personal testimony and a historical document. The Hebrew edition of the book was well received by many critics, both in Israel and around the world, for its deeply moving quality as well as for its documental value as a record of one of the darkest chapters of mankind.
Vallentine Mitchell, 9780853035831, 303pp.
Publication Date: September 1, 2006
or
Not Currently Available for Direct Purchase