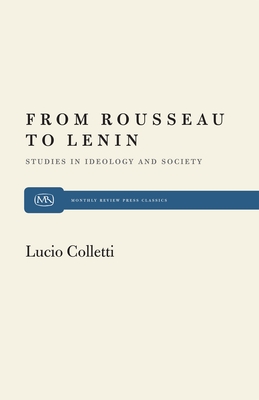 From Rousseau to Lenin; Studies in Ideology and Society (Paperback)
Monthly Review Press, 9780853453505, 250pp.
Publication Date: January 1, 1972
* Individual store prices may vary.
Description
This collection of Colletti's (1924-2001) principal Marxist essays will be welcomed by non-Italian readers. Colletti's concern as a Marxist was twofold: to interpret Marxism as profoundly and as flexibly as possible; and to investigate the relationships between Marx's thought and that of a number of other thinkers as widely separated in time as Rousseau and Marcuse. His thought ranges widely through philosophy, history, sociology, politics, and economics, without pausing at boundaries. Colletti's work from his Marxist period attempted to place the work of Marx in a line of descent that de-emphasizes Hegel, while giving a novel focus to the relationship between Marxism and Kant.