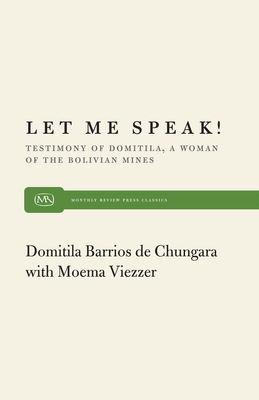 Let Me Speak (Paperback)
Monthly Review Press, 9780853454854, 236pp.
Publication Date: January 1, 1978
* Individual store prices may vary.
Description
First published in English in 1978, this classic book contains the testimony of Domitila Barrios de Chungara, the wife of a Bolivian tin miner. Blending firsthand accounts with astute political analysis, Domitila describes the hardships endured by Bolivia's vast working class and her own efforts at organizing women in the mining community. The result is a gripping narrative of class struggle and repression, an important social document that illuminates the reality of capitalist exploitation in 1970s Bolivia. Domitila Barrios de Chungara was born in 1937 in the Siglo XX mining town in Bolivia. She became politically active in the 1960s and, in 1975, participated in the UN International Women's Year Tribunal in Mexico. In 2005 she was nominated alongside 999 other "Peace Women" for a collective Nobel Peace Prize.