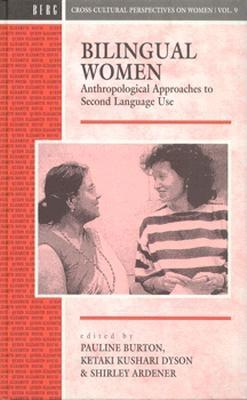 Bilingual Women (Cross Cultural Perspectives on Women #9) (Hardcover)
Bloomsbury Publishing PLC, 9780854967377, 210pp.
Publication Date: March 10, 1994
Other Editions of This Title:
Paperback (3/10/1994)
* Individual store prices may vary.
Description
This book studies women's language use in bilingual or multi-lingual cultural situations. The authors - social anthropologists, language teachers, and interpreters cover a wide variety of geographical and linguistic situations, from the death of Gaelic in the Outer Hebrides, to the use of Spanish by Quechua and Aymara women in the Andes. Certain common themes emerge: dominant and sub-dominant languages, women's use of them; ambivalent attitudes towards women as translators, interpreters and writers in English as a second language; and the critical role of women in the survival (or death) of minority languages such as Gaelic and Breton.
About the Author
Pauline Burton Lecturer in the Division of Humanities and Social Sciences, City Polytechnic of Hong Kong Ketaki Kushari Dyson Writer and Research Associate, Centre for Cross-Cultural Research on Women, University of Oxford Mrs Shirley Ardener Centre for Cross-Cultural Research on Women, University of Oxford
Praise For Bilingual Women (Cross Cultural Perspectives on Women #9)…
"...this book is enormously valuable for having broken new grounds, and having established a strong link between gender and bilingualism." --Giuliana Ladomery, LUISS, Rome

"The insights into gender-related language choices are often fascinating, sometimes surprising as they contradict hastily accepted views." --Bulletin of Francophone Africa

"The main strength of this book is found in its detailed ethnographic descriptions of language choices in bilingual societies from all over the world ... I would welcome many of the articles in this book into courses on bilingualism to serve as detailed close-ups on women's first and second language use." --Ethnos

"...this fascinating book...fills an important niche in our understanding of the complexity of gender in bilingual communities, and underlines the need for further research..." --Vivan de Klerk, Rhodes University, South Africa

"While writings on topics of language and gender cannowadays often seem sterile, this edited volume has the distinction of providing new insights by finding neglected questions to ask and fresh things to say. [...] The volume is accessible enough to be recommended as a student text, but sophisticated, rich and insightful enough to be recommended to specialists in anthropology, linguistics and, indeed, to academics with a more general interest in language studies."--Social Anthropology

"Through their anthropological approach, the authors of this book have demonstrated magnificently the role of women in bringing understanding and cooperation between people, at a time when very little has been written or publisehd on women and language use in bilingual or cultural situations, gende, and single language use." --Nouvelles de la Newsletter